Webinar - Sidekick Unveiled - Share in the Success

Tuesday, February 19, 2013 at 1:00 PM (NZDT)
Event Details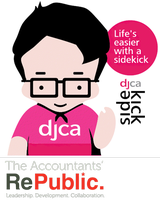 19th-20th February l 1pm-2.30pm l $450+GST l Presenter: Dave Jessep l Suited to Partners & Business Managers
Following on from last November's highly successful 2 day Sidekick Unwrapped programme, after repeated requests for a super-condensed (and super high value) webinar version, we're delighted to bring you Sidekick Unveiled, a two-part webinar series.
Your presenter, Dave Jessep,will detail the hard yards of how he completely reshaped and rebranded DJCA to become a modern practice, growing by over 1.4m and 800 Xero clients in just two years.
Part One – Strategy, Marketing & Sales - 19th February, 1 – 2.30 pm            
Meet DJCA and Sidekick – The modern practice

Strategy & Branding

Bundled services explained

The Sidekick structure

Marketing – Social media, events, key tools & more

Meet the Business Development Executive

The sales process
Part Two – Process, Process & More Processes! – 20st February, 1 – 2.30 pm
Detailing the DJCA processes

Proposal, engagement and on-boarding

Outsourced client training

Recovery of part year, set up and data migration

Hand over to the Sidekick Accountant – Systems are go!

Avoidance of scope creep

Summary of key messages & your growth goals
In Dave's Words – "We think this knowledge is well worth contributing to this industry. We have a big SME market here and Accountants all have different strengths to offer, so why not collaborate and share in the success"
Qualifies for CPD. One session only
Refunds and Cancellation Policy
Cancellation Policy:   Please provide us with at least three business days notice of a cancellation. Where cancellation occurs within this period we will contact you promptly to establish whether you wish to postpone and have the payment deferred to another course or cancelled for a refund in accordance with our refunds and dispute policy.
Refund and Disputes Policy:   Refunds will only be given where cancellation has occurred as stated in the cancellation policy.  In the event of a refund, an administration fee of 25% will be reserved to cover associated costs.  Where a dispute has occurred we will make all effort to have this resolved within two business working days.