Webinar - The Professional Trustee Reborn

Tuesday, February 26, 2013 at 1:00 PM (NZDT)
Event Details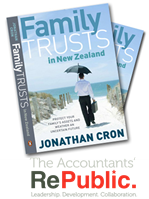 26th February l 1pm-2.30pm l $250+GST l Presenter: Jonathan Cron l Suited to Partners & Business Managers
The Law Commisson has completed its review of the Law of Trusts and will publish its final recommendations in 2013.  The latest issues paper proposes enhancing the accountability of trustees, limiting the ability for exemptions from liability and giving beneficiaries broader ability to apply to the court to have trustee decisions reviewed.
With around 400,000 trusts in NZ we need Public Accountants to step up to the role of TRUE PROFESSIONAL TRUSTEE. You're here to add value, not take a number.
In this 90 minute webinar you'll learn how to re-invent your distinct role as professional trustee, separate to that of Chartered Accountant.
Your Presenter
Jonathan Cron is founder of New Zealand Trustee Services Ltd and has more than 20 years experience as a dedicated professional trustee. Managing around 4,700 kiwi trusts, Jonathan has implemented exemplary systems and protocols for adding serious and affordable value to mum and dad trustees.
We'll cover:
The latest Law Commission review update

'Best Practice' as Professional Trustee

How to separate your role as CA from that of trustee

How to direct your clients, so they do what you need them to do

Step by step, how to conduct the annual Trust Review meeting with your trustee clients

Smart marketing and pricing strategy
Attendees will receive quality templates, marketing pieces and access to NZ's pre-imminent trustee expert, Jonathan Cron.
Refunds and Cancellation Policy
Cancellation Policy:   Please provide us with at least three business days notice of a cancellation. Where cancellation occurs within this period we will contact you promptly to establish whether you wish to postpone and have the payment deferred to another course or cancelled for a refund in accordance with our refunds and dispute policy.
Refund and Disputes Policy:   Refunds will only be given where cancellation has occurred as stated in the cancellation policy.  In the event of a refund, an administration fee of 25% will be reserved to cover associated costs.  Where a dispute has occurred we will make all effort to have this resolved within two business working days.