Helping job seekers manage their mental health and wellbeing so they can move toward their employment goals.
About this event
Are you feeling frustrated when it comes to job seeking and interviews?
That negative self talk or perhaps lack of confidence?
Our Wellbeing Series team is here to support you to better manage and care for yourself during this challenging time. We do this by providing essential skills and knowledge that will be useful to stay on top of your wellbeing and tools to use when feeling anxious.
This online training course has been designed to help students increase their mental health and wellbeing by completing a series of wellbeing topics related to understanding themselves and building resilience. The course has a mix of online videos, presentations, worksheets and quiz's to help keep students engaged.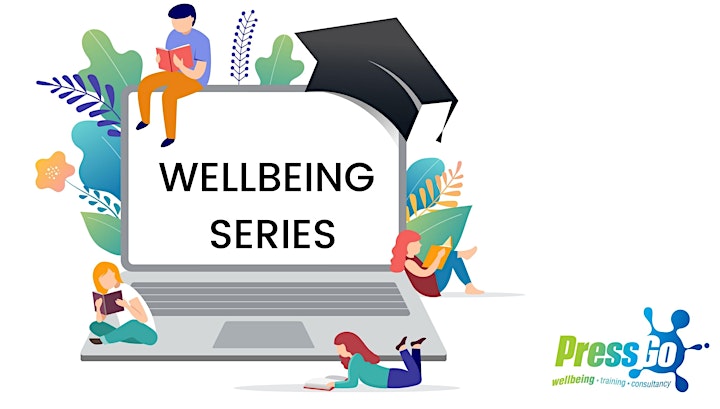 Topics covered:
Mental Health and Wellbeing
Self awareness
Change
Positive communication
Te Whare Tapa Wha
Strengths and Values
Action planning
Duration: In your own time
Cost: FREE
For further information, please feel free to email us at admin@pressgo.co.nz
Or visit our website: PressGo Website
Follow us on Linkedin: PressGo Linkedin
Like us on Facebook: PressGo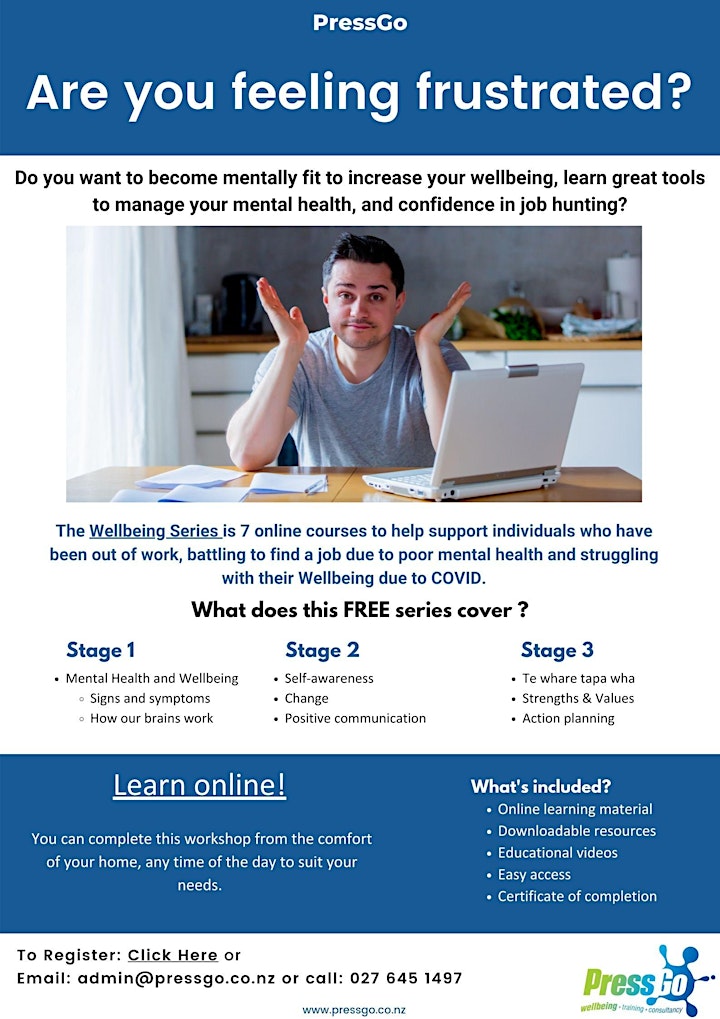 So what are you waiting for? Set aside some "you time" to build your skills and learn how to best support your mental health and wellbeing in your job seeking journey.
FAQ's
How long do I have to complete this course?
The Wellbeing Series will be FREE until May 2022, thereafter it will be a paid course.
Can anyone looking to improve their wellbeing sign up for this course?
What will I need for this course?
A device to access this course, speaker to listen, notepad, pen/pencil and some time. There are worksheets that will need to be printed if you are able to, but if not you can just write down your answers on your paper.
Will I need a camera and microphone ?
No, but we do recommend having speakers to hear the videos/presentations.
Why is this training FREE?
Thanks to the COVID Lottery fund, this initiative is funded to help the community that have been affected by COVID in one way or another through means of job loss or poor mental health and need additional support/tools to gain employment again by increasing their mental health and wellbeing and confidence in job hunting.
Will my progress be saved if not completed?
Yes, you can come back to it at any stage and complete the courses in your own time.
What are the benefits of this training?
Know your strengths and values • Work according to your communication style • Challenge negative thinking patterns • Learn what works to support yourself when feeling low • Better manage symptoms of anxiety and depression • Understand and manage stress • Increase confidence • Learn grounding techniques