ALL WELCOME to be part of this exciting day for Wellington & Kapi Mana Tennis Clubs. A NON-BORING WORKSHOP, with FREE LUNCH!
About this event
If you're passionate about tennis at your club you definitely won't want to miss out on this exciting one-day workshop opportunity.
Saturday 22 may 9am-2.30pm (time changed to accommodate those wanting to go to the Phoenix)
FREE TO ATTEND (lunch included).
No limit on the number of attendess per club. Bring a group!
Great line-up of guest speakers! Including Tennis NZ's Club of the Year and Coach of th Year
Listen to and share some real examples, take away real ideas.
A workshop for anyone interested in reshaping their club for the future
• You don't need to be a committee member to attend
• Listen to and share real examples, take away real ideas
• A must for clubs wanting to survive and thrive
• Be part of an exciting journey to make your club the best in the country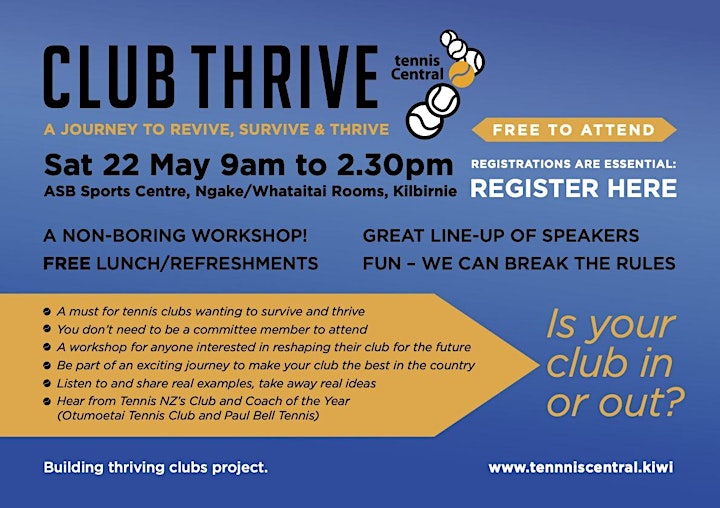 Organiser of Wellington & Kapi Mana Club Workshop
Tennis Central Region is located at the Wellington Renouf Tennis Centre on Brooklyn Road surrounded by the beautiful Central Park. Our community facility is the home of tennis in our Region and hosts many international, national and local events.  The Centre is available for everyone and anyone to use, you don't have to be a club member. Come play!