Description

Whanaungatanga Hui
Te Rau Matatini invites kaimahi working in the Mental Health and Addiction Workforce sector to come together share insights, innovations and be inspired and of what is happening in this space.
Who should attend?
Registration is free and open to all those in the Māori Mental Health and Addiction Workforce.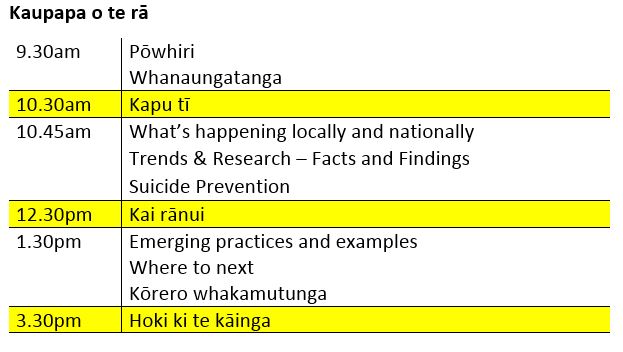 Find out more
For Information -please contact Kaiwhakaoho Mauri Terri Cassidy:terri.cassidy@teraumatatini.com
For registration/catering purpose, please contact: Kairuruku Tari Avao Tiatia: avao.tiatia@teraumatatini.com
Registration close 16 August 2017 at 4:00pm
Programme delivered by

Te Roopu Mākohakoha

, Te Rau Matatini
Noho ora mai.
Te Roopu Mākohakoha, Te Rau Matatini
www.teraumatatini.com | Callfree 0800 MATATINI