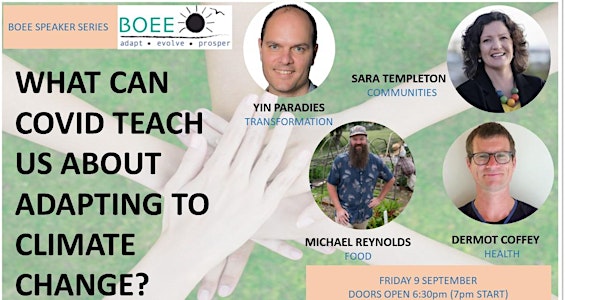 What can Covid teach us about adapting to Climate Change?
Location
Te Waka Aroha St Faiths (The Stone Church)
46-50 Hawke Street
New Brighton
Christchurch, New Zealand, Canterbury 8081
New Zealand
Four Speakers, Four different Angles. What can we learn from covid and apply to climate change? Come and find out!
About this event
For Aotearoa New Zealand, the impact of the effects of climate change on our economy, people, and environment is the greatest threat we face. It is also our greatest opportunity.
Adaptation to climate change has the potential to unite or divide us, to impoverish or enrich us, make us the country we believe ourselves to be, or break us apart. How we choose to adapt will determine the future of Aotearoa.
Our speakers are all nationally or internationally known: Dermot Coffey (OraTaiao:New Zealand Climate & Health Council), "Putting health first- Covid and Climate Change"; Yin Paradies (Alfred Deakin Professor and Chair in Race Relations at Deakin University, Victoria), "COVID, climate change and coloniality: Towards a re-consecrated cosmos"; Sara Templeton (Councillor, Christchurch City Council – how communities adapt), 'It's a Team Event: What Covid has Taught Us about Climate'; Michael Reynolds, (co-founder Toa Kai), "A Crisis of Culture or a Culture of Crisis?".
We hope you leave this event feeling inspired and empowered.
If you wish to ask questions at this event, we encourage you to download the app Slido at to your smartphone. (Slido Event: 3150482). This event will also be live-streamed. Photo by Tim Swaan on Unsplash.