WHPC Australasia Chat: Career journeys in data science
This WHPCAusNZ virtual meetup is part of Data Science Week (https://datascienceweek.org/).
About this event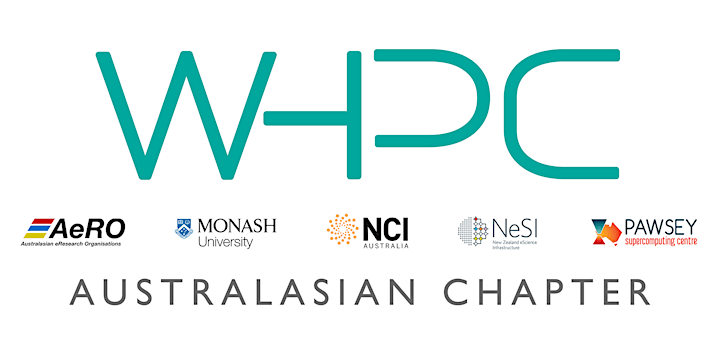 Join the Women in High Performance Computing (WHPC) Australasian Chapter for a conversation about career paths, self-advocacy, 'lessons learned' at various career stages, and other career experiences of women in Data Science , eResearch, and HPC roles.
We're rounding up a few guests who will share perspectives from their early/mid/late career roles, but overall this session is aimed to be very conversational with attendees welcome and encouraged to ask questions, share their own stories, and connect with peers and allies within the Australasian Data Science, HPC, and eResearch communities.
How to connect
At the time of the session, click the Zoom link below to join our chat:
https://nesi.zoom.us/j/99979144073?pwd=VmRtK0NMS1JwRlViZFlxOWE5NHA4dz09
Discussion prompts
Have a think about your career journey to date and what you might want to share or ask about on these and other topics:
How did your previous work (or life!) experiences prepare you for your current role?
Specific skills that are in demand (or will be in the near future)
New domains in which data science applications are expanding quickly
Similarities and/or differences between working in the academic vs. private sectors
Self-advocacy -- any tips for approaching conversations or opportunities around salary negotiation or role / responsibility changes?
What have you been reading, watching, listening to lately as a resource for professional development, inspiration, or challenge?
Who Should Attend
Anyone interested in learning more about or sharing experiences of women navigating career pathways in fields of Data Science, HPC, and eResearch. This includes male, non-binary, and other allies! Everyone is welcome to join the conversation.
More Information
If you have any questions or would like more information about this session, please email WHPC@aero.edu.au.
Additionally, consider subscribing to our mailing list to stay updated about other WHPCAusNZ events.
WHPC Australasia Chapter
WHPCAusNZ is a collaboration between New Zealand eScience Infrastructure (NeSI), Monash University, Australasian eResearch Organisations (AeRO), NCI Australia, and the Pawsey Supercomputing Centre. For more information on the Chapter and ways to connect with the community, visit https://aero.edu.au/whpc/.
Organiser of WHPC Australasia Chat: Career journeys in data science
NeSI - New Zealand eScience Infrastructure - is New Zealand's computing research infrastructure. We provide high performance computers and support systems to enable the country's researchers to tackle the world's largest problems.
NeSI's strengths surround High Performance Computing. We place strong emphasis on both the technical aspects, such as providing excellent hardware and software, and the human aspects, such as support and training.
If you would like any further information please contact the NeSI Engagement Team through events@nesi.org.nz or if you have questions specific to our training: training@nesi.org.nz