Description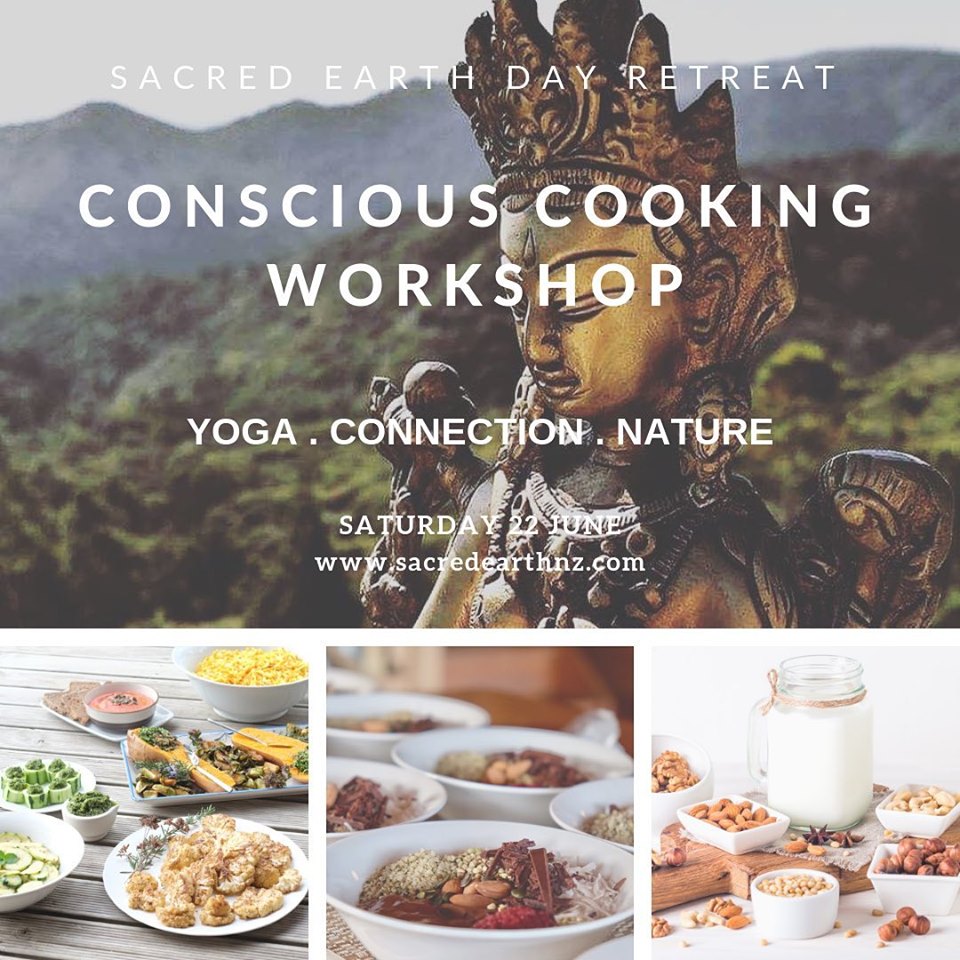 This is a day designed as a love for people, movement and healthy food.

An epic day to create space for community, allow connections and honour winter solstice and our well-being. An ideal short break to treat yourself to feel cosier not only in our homes but also in our body and mind.

Winter Solstice has been celebrated in cultures the world over for thousands of years. This start of the solar year is a celebration of Light and the rebirth of the Sun. This also happens to be an International Day of yoga so we are going to take that all in!

Join for an adventure in the forest to a secluded waterfall, delicious plant-based foods, good vibes, and beautiful connections. Together we will share simple tips that help create a solid foundation for your health and wellbeing.

Sacred Earth Day Retreat includes:
Amazing Food Experience - Breakfast, Hot Drink, Lunch and Raw Treats
Half day Plant-Based Food Workshop
One gentle yoga flow in the morning in the Temple
One restorative class including meditation (Restorative Yoga in the Temple)
Adventures in the bush - walk to a secluded waterfall (1 hour walk return)
Breathtaking views, good laughs and simple connections
More details on our: Facebook event
Less than an hour drive from Auckland, nestled into the Great Forest of the Waitakere Ranges, leading to the spectacular black sand ocean beach of the west coast of Karekare's natural beauty, Sacred Earth is a place where the magnificence of the natural world can open us up to the hidden beauty of our inner being. The ideal setting for intimate gatherings that allow deeper connections within and to the environment that surrounds us.

Experience delicious and healthy Plant-Based Cuisine by Paheko Living Foods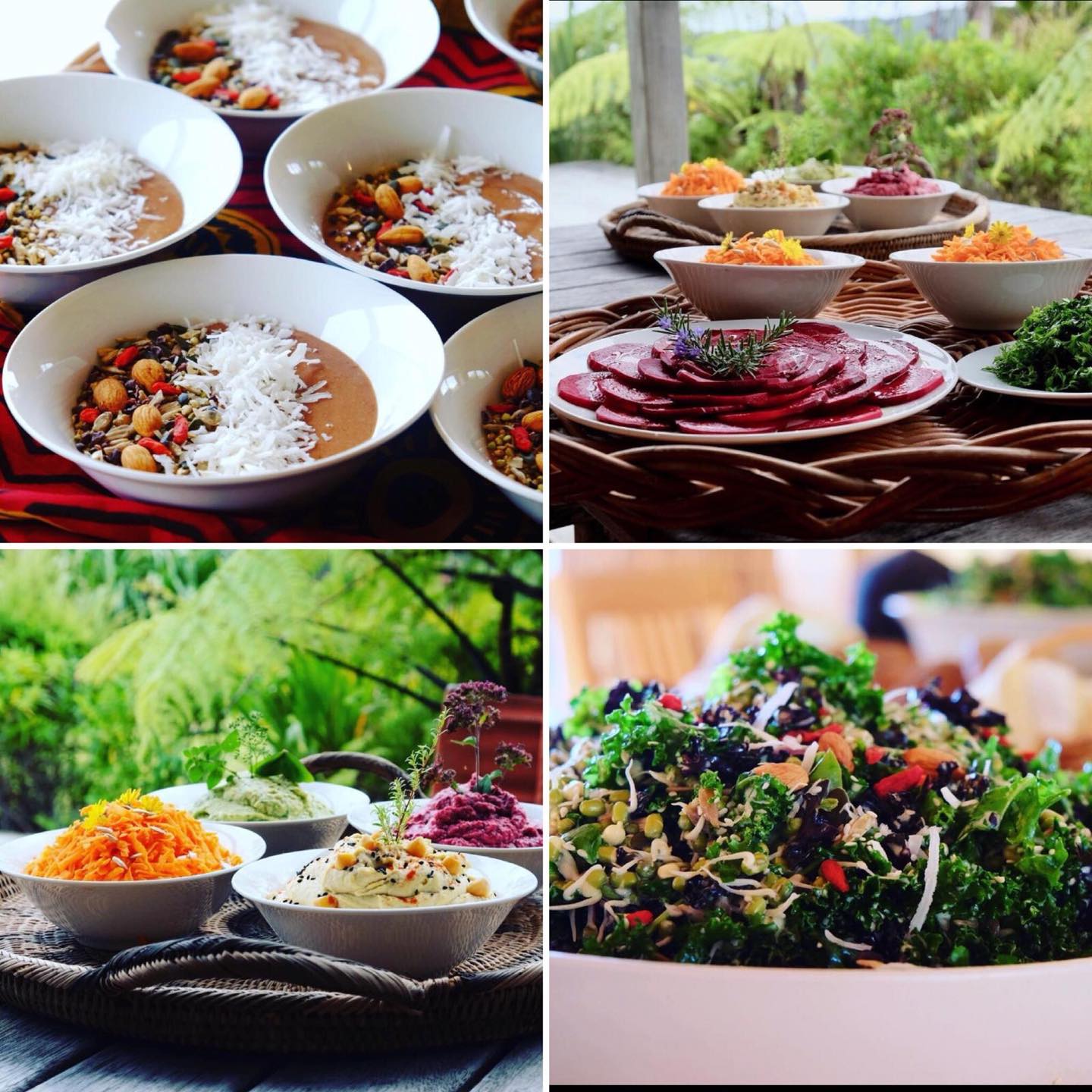 Discover the amazing benefits of eating plant-based during this one day retreat.
This half-day cooking course provides an introduction to organic plant-based and raw cuisine using innovative techniques and principles of vegan food preparation with a zero-waste approach using natural ingredients.
Being conscious about our cooking, it involves understanding where our food comes from and being mindful of how we prepare it, with an effort to minimise food waste and reduce our input into landfills.
Learn how to prepare nutritious, energy - balanced meals using easy cooking techniques, various approach to raw and plant foods, sprouting & dehydration techniques, working with nuts/seeds & replacements.
Learn simple techniques to incorporate plant-based, non-processed and nutrient-dense foods into your lifestyle and how to avoid the use of refined sugar, gluten and over processed foods such as white flour. Instead, you will learn to value pure, natural and whole ingredients which are organic, enzyme-rich, and wholesome.
Together, we will create amazing plant-based recipes with a focus on bio-diverse organic plant ingredients that nurture our bodies and the environment. Each meal is shared in an informal communal style.
Our passion is to show you how delicious and abundant a plant-based diet can be. Not only how it tastes, but also how it keeps us healthy and thriving.
Enjoy breakfast with a hot drink after restorative yoga class. Open buffet of superfood salads, savory raw or dehydrated goodies, as well as warm foods, will be offered for lunch followed by a herbal tea and a delicious raw treat.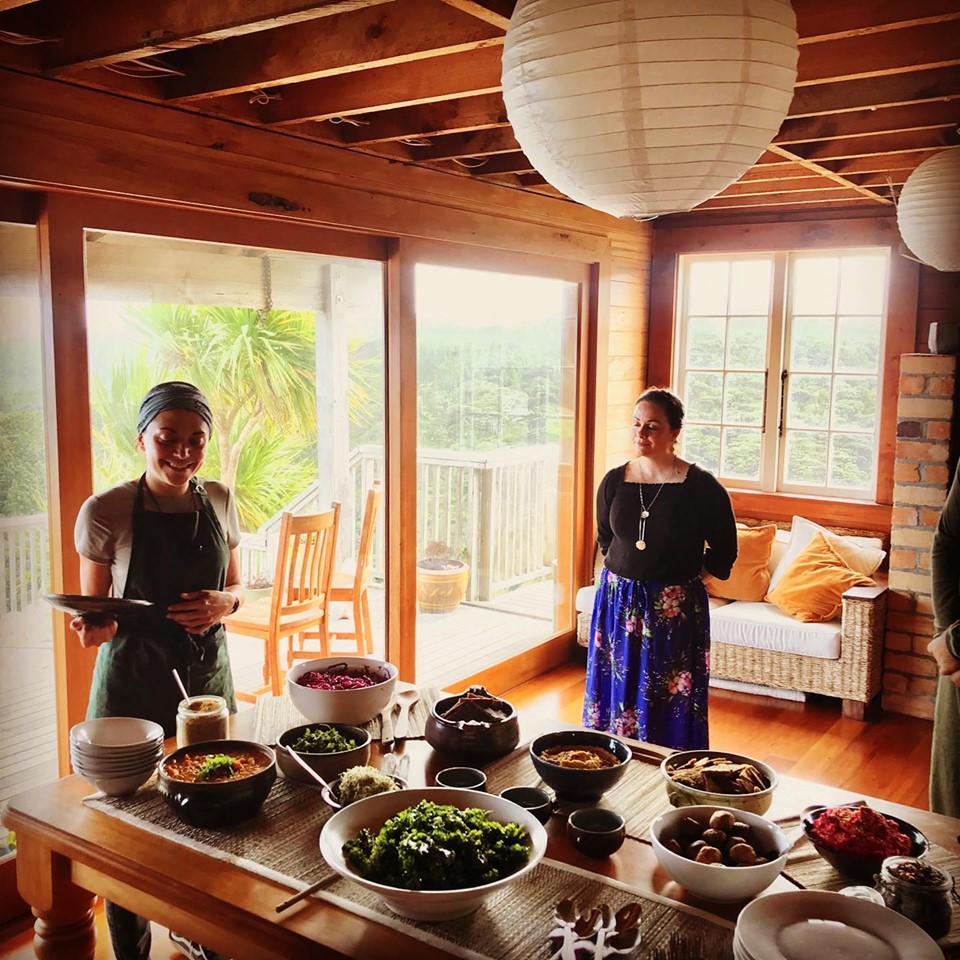 Yoga and Relaxation in a beautiful Temple and Total Nature Immersion
Our day begins with welcome tea at the temple overlooking the Tasman sea followed by a gentle vinyasa flow. Classes are designed to help you find foundational strength, freedom of movement and a connection to your breath with focus on yoga therapy and meditation. Beginners to yoga will get an introduction to yoga postures, breathing practices and relaxation techniques, while the more experienced will be guided in how to deepen their practice. All levels, bodies and souls are welcomed.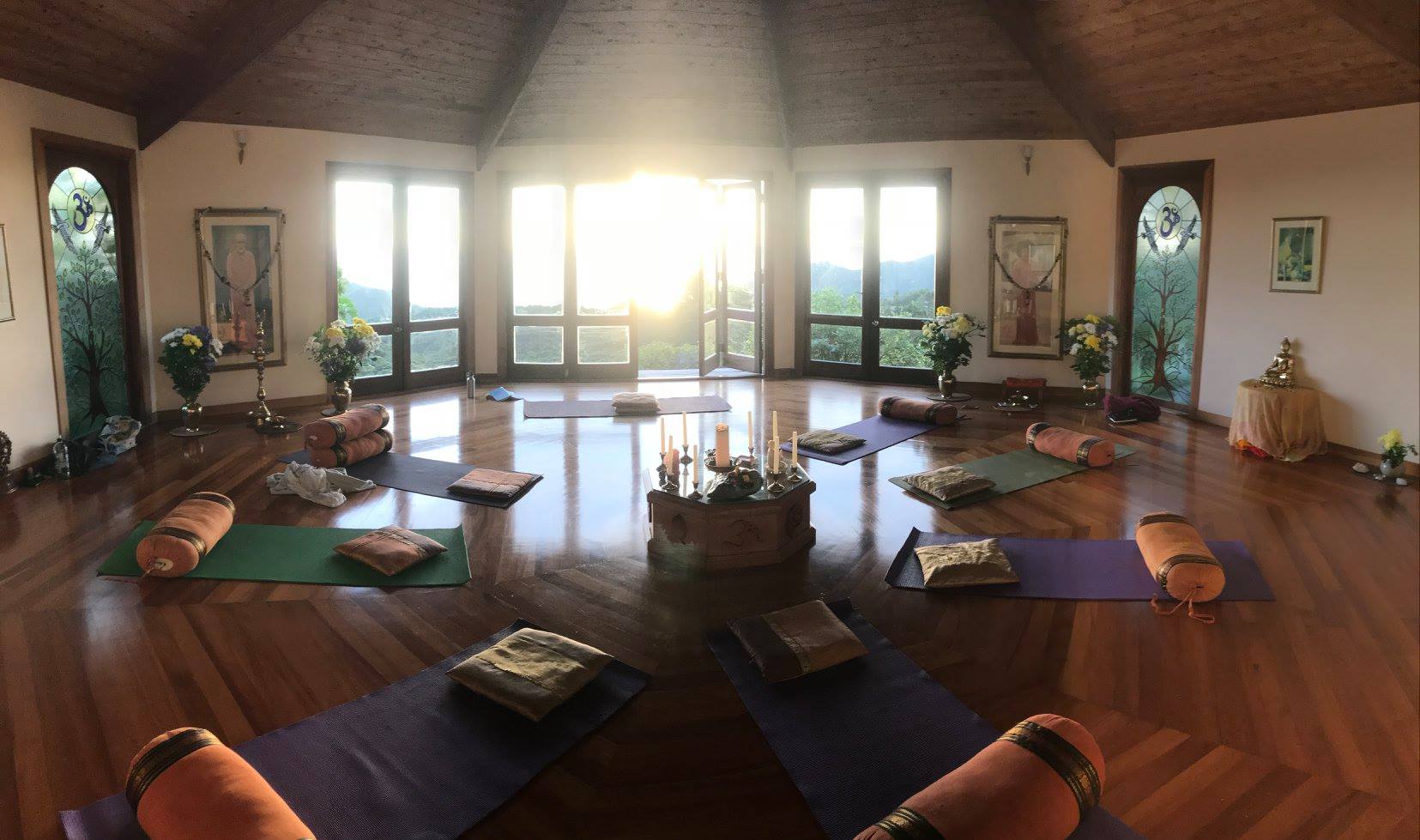 Experience great outdoors renowned by its diversity and pure energy. It is a walk in the wilderness of Waitakere ranges to a hidden waterfall on the sacred land, where we take the moment to connect and listen to the nature. It has something for every adventurer in us.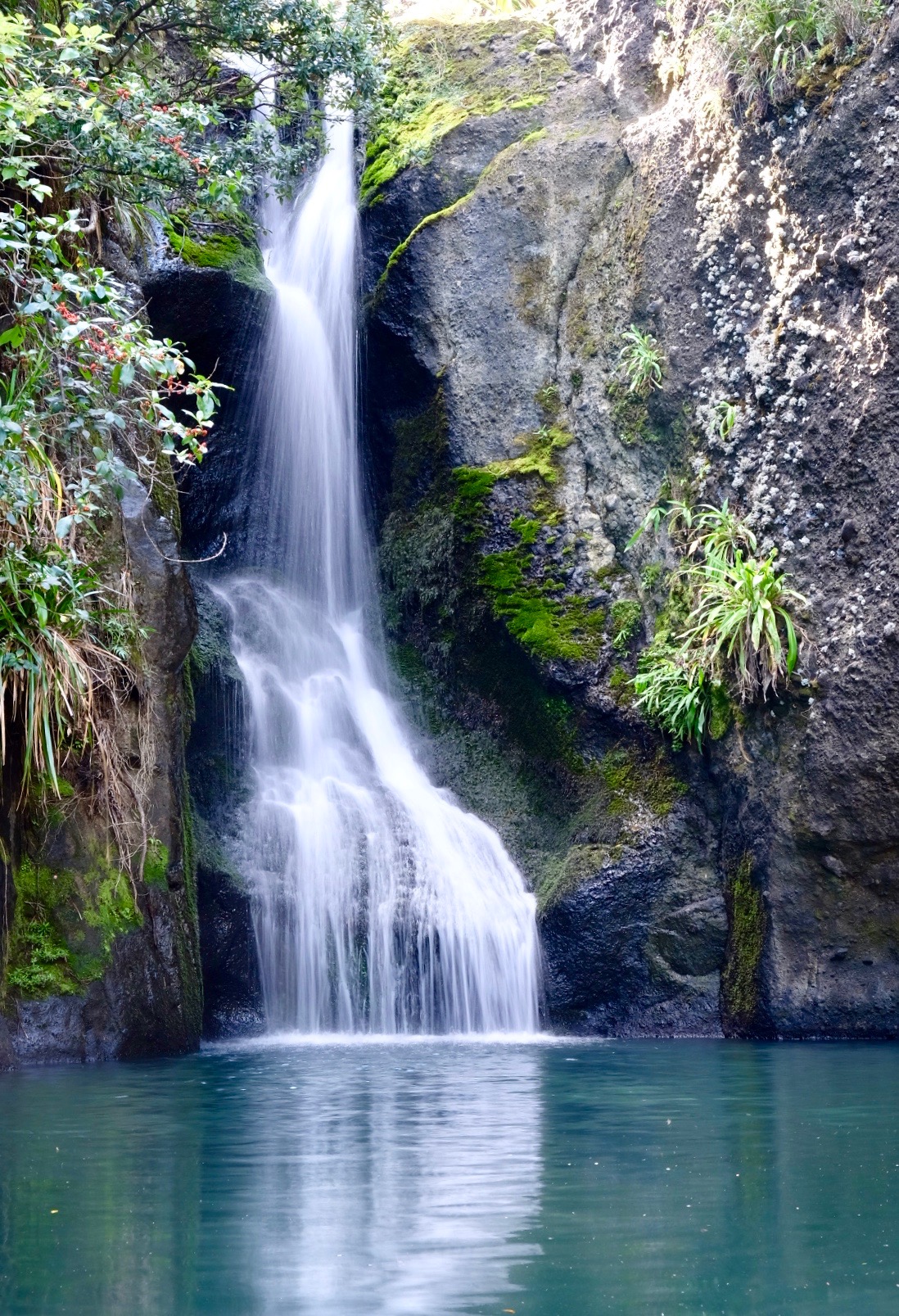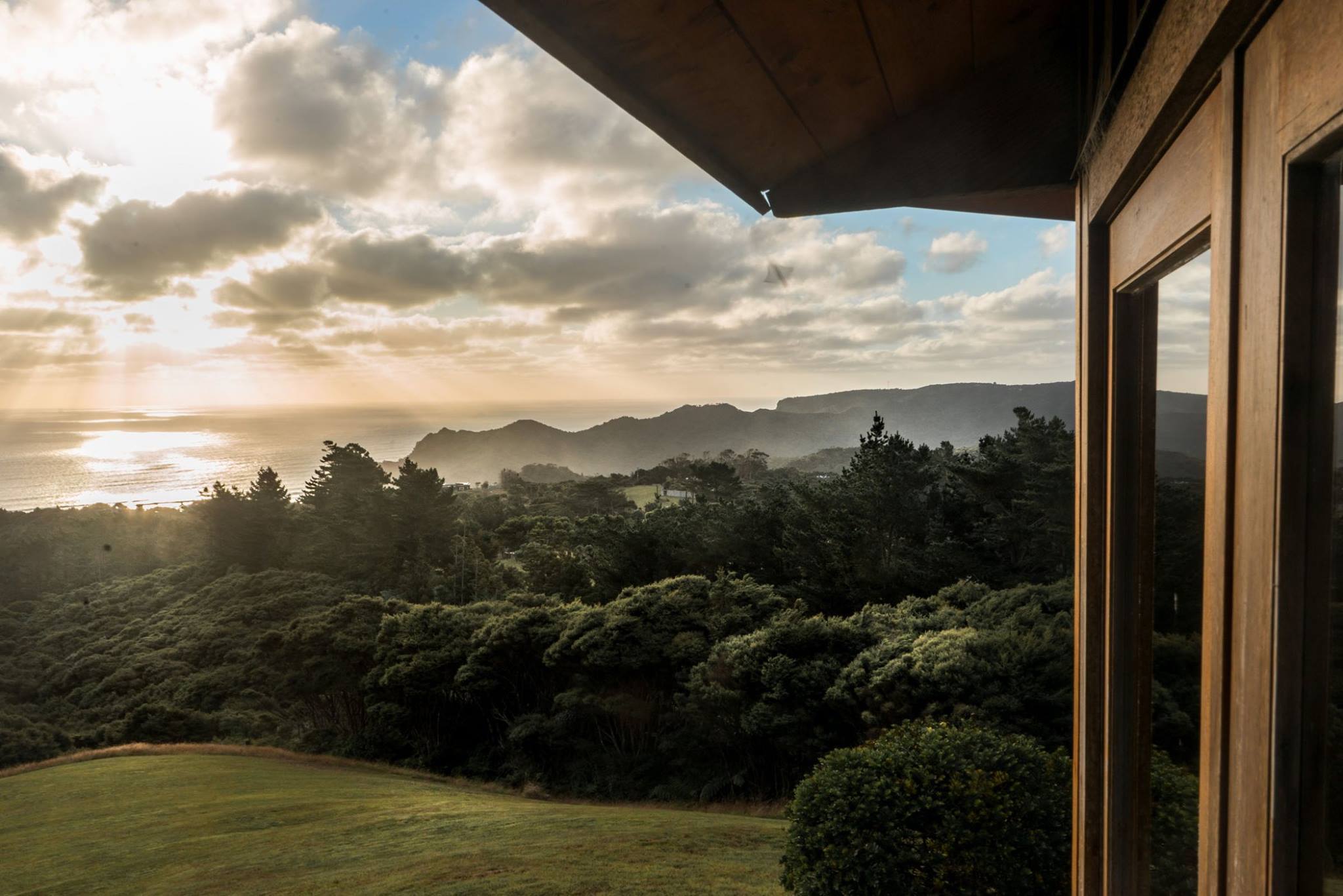 Discover the magic of yoga nidra followed by a closing circle during one of the most beautiful sunset you will see.
DAY PROGRAM


08h30 Welcoming at the Temple - Herbal Tea
08h45 Gentle Yoga Flow
10h30 Demo/ Cooking workshop (food tasting and nibbles + power breakfast + hot drink included)
14h00 Lunch
15h00 Walk to Waterfall or hot tub + free time
16h00 Restorative Yoga
17h00 Closing Circle & Sunset Watching
17h30 Farewell
What to bring?
Comfortable clothing (weather dependant)
Walking shoes
Good mood and big smile
Retreat fitness level - no level required to moderate (bush walk has few steep parts on the path)
FAQs
Are there ID or minimum age requirements to enter the event?
R18
What are my transport/parking options for getting to and from the event?
Free parking available
How can I contact the organiser with any questions?
Direct messages on our website or Facebook event please and we will respond as quick as we can