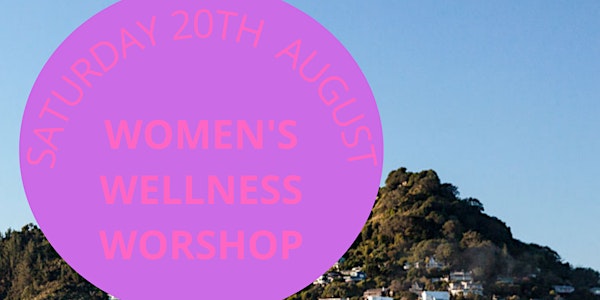 WOMEN'S WELLNESS WORKSHOP 2022
Location
Tairua Rugby and Sports Club
28 Manaia Road
Tairua, Waikato 3591
New Zealand
Refund policy
Contact the organiser to request a refund.
Eventbrite's fee is nonrefundable.
Come and experience these women talk about all things Female related and our beautiful bodies.
About this event
Tairua Women's Wellness Workshop will be featuring four amazing women who are professionals in Women's health, hormones, gut health, pre and post natal exercise and care, leadership, resilience, training around our cycle, naturopathy, functional testing and natural medicine.
We are so lucky to get them all together in one room to share their knowledge with us!
Emma Sanders- Edwards, Adeption.
Emma is the co-founder of the leadership development platform Adeption, and the leadership development company JumpShift in New Zealand; whose global clients include Walmart, Aurecon, Medtronic, Fonterra and Accenture.
Emma has a Bachelor of Science (Hons.) and a Bachelor of Commerce. She studied Decision Making at Harvard University and is a 200-hour trained yoga teacher.
On the day, Emma will be covering some of the key material corporates request in developing their leaders - understanding yourself, setting goals, and staying resilient in uncertainty.
Nicole Harris, Real You & She Moves.
Nicole will be covering a bit about exercising safely during pregnancy and then returning to exercise safely, ab separation, pelvic floor dysfunction prolapse etc a couple of tests you can do to know when to progress in your exercise
I will demonstrate how to do an ab separation check and talk about seeing and benefits of women's physio
Annelies Grimshaw, Key Nutrition
Bachelor of Human Nutrition and Sports and Exercise Science (Massey University)
ISAK Level 2 (AUT)
I love what I do! I have been working in the Nutrition and Fitness Industry for over 15 years now. I am extremely passionate about helping others see the benefit of eating nutritious food and how small changes can make a difference to your well-being and lifestyle. I want to help you look and feel the best you can without fad diets or giving up foods you enjoy! I believe in a sustainable approach where I work with you to create healthy habits, rather than restrictions. Nutrition advice is ever evolving so I enjoy keeping up to date with the most recent research and clinical approaches to help you get the results you are looking for! I can help you with weight loss, muscle gain, sports nutrition, family health, dietary requirements, hormonal issues, gut health, increased energy and a lot of other health issues.
Kirsten Donovan – The Good Health Room
I have been in the Health industry for 15 years and have worked in corporates through to my own private practice. I have experienced life with a chronic health complaint and know what it is like to live life 'pushing through'. Naturopathy has helped me to find solutions and to lead my best life. This life experience drives me to help others attain their best possible health and vitality. I see naturopathy (nutrition and selective supplement and herb use) as an invaluable tool to help us regain health as nature intended. This combined with the accountability of working regularly with a naturopath can really help us reach levels of health we didn't realise were possible.
My area of expertise is chronic gut disorders such as IBS, SIBO, bloating, constipation, diarrhoea and impaired digestion. I enjoy seeing those with fatigue and poor immunity improve through nutrition and replenishing deficiencies. I also love to work with children with improvements in hyperactivity, insomnia, digestive disorders and mood disorders through working with their diet, gut and deficiencies.
In clinic I have a real focus on functional testing to help us to identify the best course of treatment and get the best outcomes. I do a variety of testing from zinc taste tests through to comprehensive stool analysis and the dried urine test for comprehensive hormones that I recommend to all women. I am also able to order blood tests through Pathlab to identify deficiencies and imbalances.
Tickets include :
FREE workout at Paradise Gym (Low impact)
Morning tea from The Balanced Baker
Q & As with all our speakers
FREE printed long sleeve tee
Lunch catered by Manaia Kitchen and Bar
Goodie bag/Notebook and pen provided