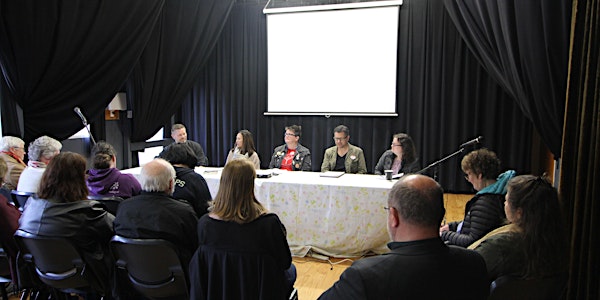 Words Will Work 2021 - South Auckland Writers Festival
Location
Nathan Homestead
70 Hill Road
Hill Park
Manurewa, Auckland 2102
New Zealand
Refund policy
Contact the organiser to request a refund.
Eventbrite's fee is nonrefundable.
Develop your writing skills, fill your creative bucket, and meet other writers at Words Will Work - South Auckland Writers Festival.
About this event
With workshops and panel discussions on topics such as flash fiction, memoir writing, poetry, speculative fiction, and writing diverse characters, there is something for every writer at Words Will Work - South Auckland Writers Festival. Held at the picturesque Nathan Homestead in Hillpark, Manurewa, Words Will Work is sure to inspire and support you with your writing.
Programme
9:30am Narrative Poetry workshop OR Memoir Workshop (Memoir workshop starts 10am)
Narrative Poetry - With Anne Kennedy (Morning Workshop Option 1)
Narrative poetry tells a story - sometimes long, sometimes short, sometimes direct, sometimes suggested. ('The Magpies', by Denis Glover is an example of a short, direct narrative poem.) This workshop introduces techniques of poetry (voice, tone, language, form) in a way that they can be applied to writing narrative poems.
Anne Kennedy is a fiction writer, poet, and screenplay editor. Her latest book Moth Hour (AUP) was short-listed in the 2020 Ockham Book Awards. The novel, The Ice Shelf (VUP), appeared in 2018. Awards and residencies include the NZ Post Book Award for Poetry, the Montana Book Award for Poetry, the University of Iowa International Writers' Program, and the IIML Writers' Residency.
Memoir Workshop with Toni Nealie (Morning Workshop Option 2)
Disquieting times: writing through crisis
Using a selection of texts, prompts and timed writing, Toni Nealie will guide writers of all levels to explore unsettling moments.
Toni Nealie is the author of the essay collection The Miles Between Me. She wrote and taught in Chicago, before returning to Aotearoa in time for the pandemic. She was the Literary Editor of Newcity in Chicago and her nonfiction and fiction have appeared in Guernica, The Guardian, The Rumpus, The Offing, Essay Daily, Chicago Quarterly Review, Jetfuel Review and elsewhere
12:15pm Soup, Scones, and a Story
Hear fresh fiction read by local writers while enjoying soup and scones for lunch (or bring your own lunch, if you prefer). A wonderful way to warm your writer's soul on a winter's day! Writers include: Janet Pates, Joan Leitch, Jack Remiel Cottrell, Kirsty Powell, and John Fergusson.
1:30pm Panel Discussion 'Respecting Diversity' OR Speculative Fiction Workshop
Respecting Diversity (Afternoon Option 1) Panel discussion with James George, Kiri Piahana-Wong, and Vasanti Unka
Writing requires authors to step into the shoes of their characters – who may have different world views and life experiences – but how is this best done? Hear and learn from our panel of writers on this topic.
Accessing Speculative Narratives with Lee Murray (Afternoon Option 2)
Part presentation and part workshop, in this session writers will explore ways in which speculative content can enrich and inform our narratives, with practical exercises and ideas for writers to develop and expand their own writing practice.
Lee Murray is a multi-award-winning author-editor from Aotearoa-New Zealand (12 Sir Julius Vogel, 3 Australian Shadows), and a two-time Bram Stoker Award®-winner. A Shirley Jackson, Aurealis, and Imadjinn Awards finalist, her work includes military thrillers, the Taine McKenna Adventures, supernatural crime-noir series The Path of Ra (with Dan Rabarts), and debut collection Grotesque: Monster Stories. She is proud to have edited seventeen volumes of speculative fiction, including international Bram Stoker Award®-winning title Black Cranes: Tales of Unquiet Women co-edited with Geneve Flynn. Her latest work is non-fiction title Mark My Words: Read the Submission Guidelines and Other Self-editing Tips co-authored with Angela Yuriko Smith. She is co-founder of Young NZ Writers and of the Wright-Murray Residency for Speculative Fiction Writers, HWA Mentor of the Year for 2019, NZSA Honorary Literary Fellow, and Grimshaw Sargeson Fellow for 2021 for her poetry collection Fox Spirit on a Distant Cloud.
3:00pm Afternoon Tea
3:30pm Flash Fiction panel discussion with Anita Arlov, Jack Remiel Cottrell and Lee Murray
Flash fiction zings. It conveys universal truths and emotions in a few lean strong lines. And it's addictive. How does good flash - flying within a page or three - manage to say more by saying less? The panel will discuss what to pack for a flash trip and what to leave behind. Where should we take off from? Where best to land? Why are prompts a common provocation in flash ? How can we imbue our flash with that luminous quality that invites multiple reads? Questions from the floor very welcome.
4:30pm Franklin Flash Fiction contest results
5:00pm Close
For more information, go to www.wordswillwork.nz