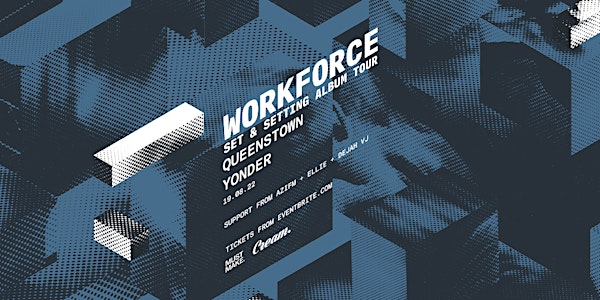 Workforce [UK] - Queenstown
Location
Yonder
14 Church Street
Queenstown
New Zealand
Workforce [UK] plays Yonder
About this event
Cream & Shucka Presents:
Workforce // Friday 19th August 2022 // Yonder
With support from:
Azifm (CHCH)
Ellie
Dejah VJ
Workforce:
Workforce presents his much-anticipated debut album 'Set & Setting' on his own imprint Must Make Music and he is coming to New Zealand to celebrate!
This body of work marks a significant new chapter for Jack as he continues to re-establish himself as a solo producer, DJ and label owner after 16 years as one half of the celebrated Drum & Bass duo Spectrasoul.
As an album, 'Set & Setting' is an absolute focussing of the Workforce sound. It's the coming together of his influences and human experience to form the basis of the work - frenetically varied in both sound and feel, but held together by an overarching aesthetic and sonic palette.
As a busy dj, Workforce showcases an uncompromising quality selection from start to finish. This night will be an education.