About this Event
High school student curious about life on campus? Interested in how to make the world a fairer, kinder and more equitable place? Want to be part of the korero?
This event is free for all Yr 11- 13 high school students and will focus on the theme of activism and social change. This is a great opportunity to engage with like-minded, innovative voices on important issues. Listen to inspiring academics from the Faculty of Arts who will challenge the way you think and see the world, and use your voice to engage with the important issues that directly impact our communities within Aotearoa.
There will be 3 seminars led by inspiring academics from the Faculty of Arts, with a focus on History, Sociology and Politics. Each seminar will focus a different theme; exploring the realities of inequality, tangata whenua stories and the power of extremist media.
There will also be 2 breakout sessions led by The Sustainable Future Collective Movement and award winning poet and performance artist Carrie Rudzinski. The SFC will investigate everyday sustainable swaps and Carrie will encourage you to put words to action through poetry.
Morning tea and lunch are included - come join us!
Bring your friends, bring your voice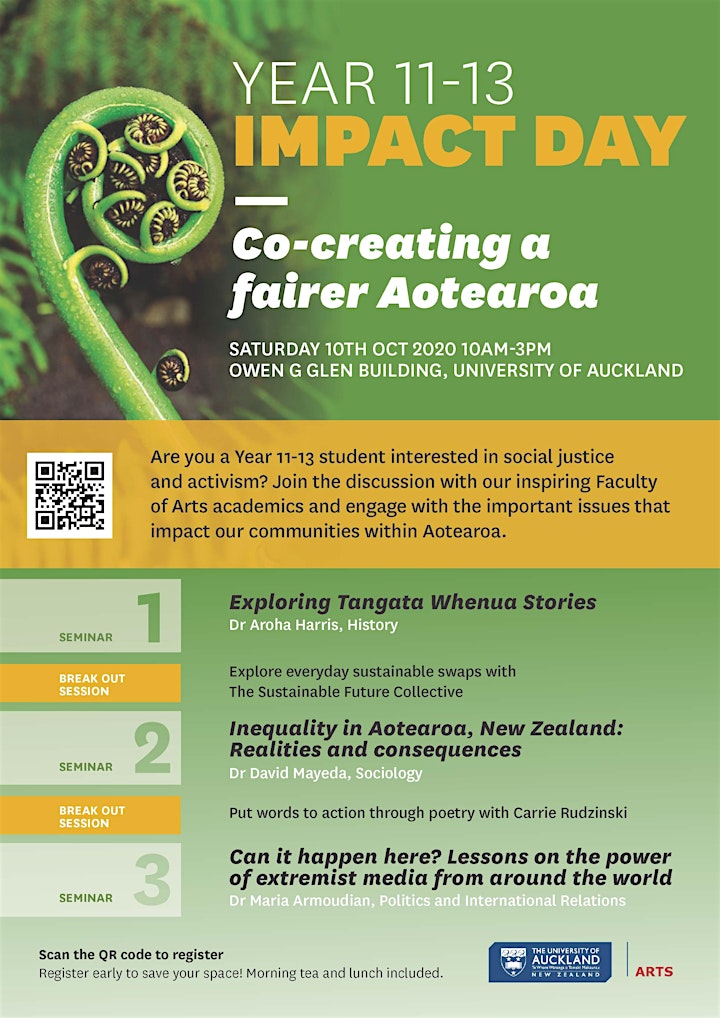 Please note: we are limiting ticket sales to ensure we have adequate capacity to space students in line with the latest COVID guidelines at the time the event runs. To accommodate the spaced seating arrangements we have booked an extremely large lecture theatre. Lunches will be individually ordered and packaged to avoid sharing. The health and safety of any student coming to campus remains the biggest priority and focus.