Youth19 Findings - Presentation and Q&A
About this Event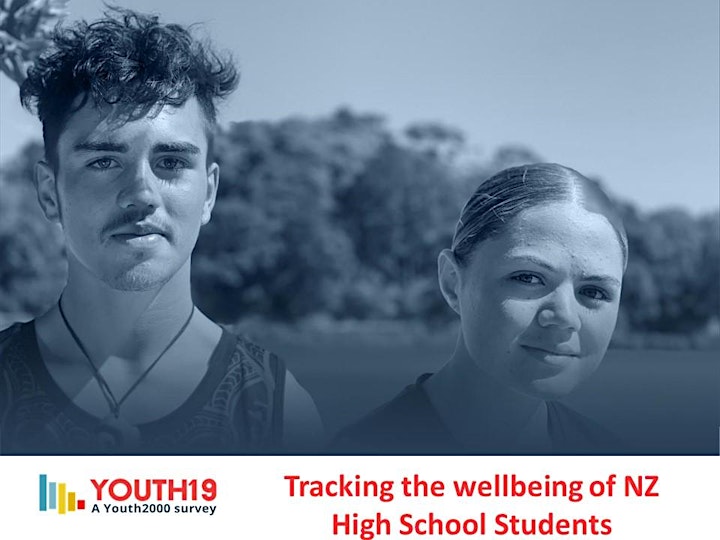 The Youth19 Rangatahi Smart Survey (Youth19) is the latest in the Youth2000 series of health & wellbeing surveys.
Youth19 was conducted in 2019 in the Auckland, Northland & Waikato regions by researchers from The University of Auckland, Victoria University of Wellington, University of Otago & Auckland University of Technology.
Youth19 builds on previous Youth2000 surveys conducted by the Adolescent Health Research Group. Since 1999, the Youth2000 series has included over 36,000 young people in Aotearoa, with findings used widely to inform policy and practice, here and overseas. Youth19 combines core Youth2000 questions with a new focus on rangatahi wellbeing and, for the first time, direct access to digital help options for participants.
An overview of Youth19 findings will be released for the first time in person on Thursday 13 August at the Faculty of Education and Social Work.
This is a cross-school event, hosted by Learning Development and Professional Practice and Counselling Human Services and Social Work.
Speakers include:
Dr Terry Fleming, Victoria University of Wellington (Co-principal investigator)
Associate Professor Terryann Clark, The University of Auckland (Co-principal investigator)
Dr John Fenaughty, Dr Lara Graves, Dr Jemaima Tiatia-Seath and members of the Adolescent Health Research Group
Refreshments will follow the presentation and Q&A