Eventbrite's COVID-19 Safety Playbook for Events
Before launching in-person experiences again, you will need to consider all applicable health and safety risks. This is a resource for you to reference when determining what risks may apply to your event and how to address them.
Date published/ June 24, 2020
This playbook will help you:
Understand the potential risks of COVID-19 transmission at events and your role as a creator in identifying and managing those risks.
Identify potential transmission risks that may affect your event, understand opportunities to effectively manage those risks, and make informed decisions about risk acceptance.
Create a pre-event safety checklist to address COVID-19 risks.
Communicate your safety policies and procedures to staff and attendees while outlining the critical role they play in event safety.
Before relaunching in-person experiences, you will need to thoughtfully consider potential safety and security risks for your events. Many factors can influence an event's risk profile, including the venue's location, the purpose of the event, and the attendees. Today, we want to provide you with resources as you work to address the threat of COVID-19 and manage the risk of transmission. Following the expertise of the Ministry of Health, you'll need to adopt new policies and procedures to help minimise physical contact and maximise the health and well-being of attendees. This playbook assumes no mandatory prohibitions are affecting your event or gathering.
You should assume that, during a global pandemic, attendees and staff members could transmit the virus. Because of this potential transmission risk, it's crucial to take appropriate safety and risk management measures and to clearly communicate requirements and responsibilities to staff and attendees. As per the government's Unite Against COVID-19 initiative, vaccinated people have a reduced risk of transmission. Please note that where there is divergence in guidance between the national health authority and your local area, event creators should adhere to any mandates in place.
To provide resources for you to reference during your planning process, we've partnered with risk management and health experts at the Chertoff Group, including Senior Advisor, Dr Jeff Runge, who was responsible for pandemic planning at the US Department of Homeland Security while serving as its chief medical officer. This work is informed by published guidance provided by the World Health Organization (WHO), the US Centers for Disease Control and Prevention (CDC), and Johns Hopkins Center for Health Security. For more resources to review, please see the list at the end of this playbook.
---
Notice: This playbook and accompanying materials are provided for general information only and are not medical, legal, or professional advice. You are solely responsible for assessing and implementing the appropriate safety and security measures to be taken at your event(s) (including whether practices other than those discussed may be appropriate), and for assuring compliance with all applicable laws, regulations, and orders. Both Eventbrite and Chertoff Group, LLC expressly disclaim liability for any loss or damage that results from any application of, or reliance upon, anything in this document by you, your agents, or your guests. Please consult your legal counsel, insurance advisor, and other professionals for tailored advice on your legal obligations and how to mitigate risk at your events.
Eventbrite has prepared these materials with information that it believes is current as of the date listed. Guidelines and information about the virus continue to change regularly. You should review the most up-to-date resources and applicable local laws, regulations, and orders on a regular basis leading up to your event, which should take precedence over any of the general information presented in this guide. Eventbrite disclaims any duty to update this guide.
---
Assess your risks and mitigation potential
This section will help you identify inherent risks and other factors that may affect your event, as well as understand the mitigation options that may help to reduce COVID-19 transmission risk.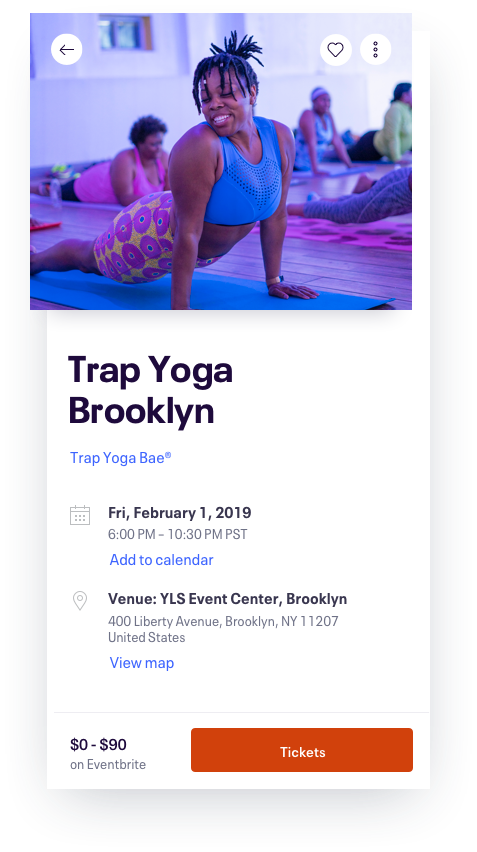 As an event creator you have responsibility for the well-being of staff and attendees at your event. It's important to recognise the threat COVID-19 poses and determine the level of risk of transmission at your event.

To make a risk-based decision to host, postpone, or modify a future event, you should complete a risk assessment to consider risk factors, safety steps, and residual risk, and update this assessment with new information and guidance regularly as your event approaches.

While the risk of transmission can't be eliminated, only managed, this process helps you to make informed decisions about risk acceptance for your event.
You should take proactive steps to reduce the spread of COVID-19, which primarily occurs by person-to-person contact and airborne transmission. The CDC issued revised guidance in April 2021 that estimates the risk of COVID-19 transmission through surface contact to be generally less than 1 in 10,000. Still, encouraging event-goers to exercise proper hand hygiene and disinfecting high touch areas may reduce the risk of COVID-19 surface transmission even further.
Before you begin, it's important to understand the following terms:
Risk factors
These are the inherent and specific aspects of your event that may increase transmission risk for attendees. These could include things like the number of people attending or how many attendees are in a high-risk group, such as unvaccinated individuals 65 or older or unvaccinated individuals with pre-existing medical conditions. Other attributes could also be considered risk factors, like your event location, the purpose of the event, or whether your event is held indoors or outdoors.
Safety steps
These are industry- and government-recognised options for mitigating the identified risks at your event. They can include implementing policies such as requiring face coverings, QR code registration using the NZ COVID Tracer app, asking attendees to self-certify that they have not recently received a positive COVID-19 test, and have not knowingly been exposed to an individual who has recently tested positive for COVID-19, choosing to have hygiene requirements for event attendees and staff, or reducing the capacity of your event.

Please note: You should follow current public health guidance related to face coverings, even if you have been vaccinated – some states and localities may continue to require the use of face coverings in certain settings and they're often required during snap lockdowns.
Residual risk
This is the risk that remains after you've implemented mitigation steps. Some event risks can be managed and reduced, but some can't. For this assessment exercise, consider assigning "High," "Medium," "Low," or "Not Applicable."

•A High residual risk score means that there are risk factors that greatly increase the risk of transmission at your event, but that there is little to nothing you can do to reduce the inherent risk at your event.

•A Medium residual risk score means that there are risk factors that increase the risk of transmission at your event, but there are mitigation measures you can take to reduce the inherent risk at your event.

• A Low residual risk score means that you have determined that any risk factors should not increase the risk of transmission at your event (or that they should only increase the risk incrementally) OR that there are mitigation steps that can effectively reduce the risk factor to this threshold.
Risk acceptance
The decision to accept the residual risks after mitigation steps are in place is called risk acceptance. If you complete the risk assessment with one or more "High" and/or two or more "Medium" residual risks, consider whether you should postpone, delay, or change your event format (for example, switching to a virtual event). Even if an event does not meet these criteria, you might still consider postponing, delaying, or changing your event format, depending on the circumstances.
Vaccine adoption
The FDA and CDC have attested to the safety and effectiveness of approved COVID-19 vaccines, which offer substantial protection against infection, hospitalisation, and death from the COVID-19 virus. Widespread vaccine adoption is expected to be critical to reducing the community prevalence of COVID-19, which will eventually enable larger public gatherings to take place with lower risk to event-goers.
Ready to complete the risk assessment and mitigation exercise?
Identify, reduce, and measure risk at your event in three easy stages.
You've identified the risks – now it's time to implement safety steps at your event.
Implement safety steps
This section should help you take steps to prevent or manage risks at your event.
Now that you've worked out what level of risk acceptance you are comfortable with for your event, it's time to put the safety steps you identified into action. Remember, if you completed the risk assessment and determined that you have one or more "high" and/or two or more "medium" residual risks, consider whether you should postpone or delay your event or move it online. Review local rules and regulations to determine whether the presence of these risk factors requires you to change your event format. At this stage, it's helpful to think about how you can prepare for and respond to risks before, during, and after your event.
All events should implement each of the basic steps outlined below regardless of the event type. Reference your completed risk assessment for the specific safety steps to follow based on your event's unique characteristics. Complete your safety checklist to capture and confirm which safety and security measures you have considered and selected to use at your event.
The steps below are general recommendations to help guide you. You should also get up-to-date information about how COVID-19 is affecting your region, current recommendations, and restrictions from local public health officials, WHO, and/or the NZ Ministry of Health (depending on your event's location). Review this information regularly in the time leading up to your event. When in doubt, contact local officials for additional guidance.
Review and implement these safety steps:
Basic steps you should take during the COVID-19 outbreak:
Measures you should implement before your event:
Measures you should implement during your event:
Measures you should implement after your event:
Complete your safety checklist to determine which safety and security measures are in place at your event.
You've implemented the safety steps – now it's time to communicate your policies and procedures
Communicate your policies and procedures
This section should help you communicate your safety policies and procedures to your staff and attendees.
Put safety first by making it prominent in your written policies and procedures and then clearly communicating this information to your attendees and event staff. Share your policies online on your website and ticket page, in your confirmation email to ticket-buyers, at the door, inside of your event through signage and announcements, and with your staff in a pre-event briefing.
Attendees and staff play a critical role in event safety during a global pandemic. Communicating basic safety requirements and seeking positive affirmation of these requirements, especially around physical distancing and wearing face coverings, are crucial to prevent the spread of COVID-19.
Considerations for communicating your policies and procedures
What to communicate
In addition to your policies and procedures, consider sharing your decision-making process, what factors you considered, and what experts or organisations you consulted while making your decisions. No in-person event is risk-free during a pandemic, so consider highlighting the existing uncertainties, what measures are being taken to reduce those risks, and your corresponding refund policy. This is an opportunity to align with ticket buyers and show them you have given these issues consideration and care. It also provides attendees with the opportunity to decide whether to accept those risks, take additional precautions when attending, or not attend.
What's expected of attendees
Attendees have a shared responsibility in event safety. Your communications should include what actions attendees should take to protect themselves and others from COVID-19, like bringing and wearing their own face coverings. A clear list of symptoms that won't be tolerated at the event should include a new or worsening cough, fever, and sudden loss of smell and/or taste. Suggest that high-risk attendees take extra consideration before joining in person. Manage expectations and ask for attendees to be patient and flexible due to the evolving nature of this crisis. Consider requiring attendees to self-certify that they do not have symptoms, have not recently been diagnosed with or had direct contact with a known or suspected COVID-19 case, and will comply with the event's safety policies and procedures including wearing face coverings, physical distancing guidelines, and other requirements. Let attendees know that any violation of your policies can result in their removal from the event, and potential forfeit of a refund depending on your clearly stated and communicated refund policies.
When to communicate
Share this information before someone purchases a ticket such as on your website or ticket listing page, in a confirmation email after they have purchased a ticket, and in later emails or social media posts leading up to the event in the case that there are changes. Communications at the event should remind attendees to comply with your policies to ensure everyone's safety. Once you've communicated your safety precautions, it's important to listen for feedback and concerns before, during, and after your event, and be responsive to your attendees.
Know your audience
Identify and address potential language, cultural, and disability barriers associated with communicating COVID-19 information to event staff and attendees. Information you share should be easily understood by everyone attending the event. Use both signs and audio announcements to communicate event rules.
Use this template, revised as necessary for your specific event and local rules, to communicate with your attendees.
You've communicated your policies and procedures. Now put your plan into action.
Use your safety checklist
This section should help you use your safety checklist to prepare for and respond to risks.
Now that you've thought through some of the potential risks, considered implementing risk-mitigating steps, and communicated your corresponding policies and procedures, it's time to put your plan into action. Use this as a guide to capture which safety and security measures are in place and know how you'll respond in the case of an incident. Share your COVID-19 event safety plan with your staff before the event and make sure they are clear on their roles and responsibilities.
Use the safety checklist you created in stage two to confirm that the safety and security measures you have considered and selected are in place at your event. Be sure to recheck local regulations and rules the day before and the day of your event for potential changes.
Health information
Vaccine Guidance
Guidance for Mass Gatherings
Risk Assessment Resources
Security Safety Steps & Communication Resources
About The Chertoff Group
The Chertoff Group is a global advisory firm that combines a Merchant Banking Practice and a Strategic Advisory Services group, both of which are focused on security risk management. The firm advises companies on a variety of business and management areas related to physical, cyber, and supply-chain security.
Prior to the onset of the COVID-19 pandemic, the Chertoff Group was already working with Eventbrite to develop safety and security guidelines for creators and events of all kinds – so it only made sense for them to partner with us on the Event Safety Playbook. According to Aaron Roth, Managing Director at The Chertoff Group: "Every company and industry has been affected by the pandemic, and there are some industries that have been more acutely affected. The event and entertainment industry is one of those, so that was a natural outgrowth for us."
The Chertoff Group established a sub-practice in February 2020 that focused on enterprise pandemic response. As the crisis evolved, this practice advised major organisations on their immediate responses. Their work, says Roth, has grown in scope over the past year in response to the changing landscape. "When we first started doing the enterprise pandemic response work, it was more of a crisis management focus; it was helping executives manage the day-to-day operational challenges of this broad organisational shift to a remote work environment. It evolved, as the pandemic evolved, into helping clients navigate the later innings of the pandemic in terms of 'what does the return to work look like?' and elements like that." In working with Eventbrite, Roth explains that experts from the Chertoff Group were "combining very high-level operational and strategic expertise we have at the firm with our research background and…integrating and tracking the latest WHO and CDC guidelines, and state and local guidance as well."
The Chertoff Group believes in taking a holistic approach to guidance that combines concrete, evergreen advice with forward-looking information that they adapt according to the COVID-19 pandemic's progression. "A lot of the elements of the pandemic are going to last once the virus is more under control," says Roth, "so we try to be more forward-thinking with our clients in that way."