The Leading Online Registration Software for Organisers
Eventbrite's dynamic end-to-end event registration tools help organisers provide the most convenient and efficient online experience for their guests.
Welcome to Eventbrite
Your fully integrated event registration software for unforgettable live experiences
Eventbrite provides you with a powerful and diverse suite of customisable online registration tools and a mobile app marketplace to stay well ahead of the curve – before, during, and after your events.

Join millions of fellow event organisers using Eventbrite's market-leading event technology to power unforgettable live events in 180+ countries and territories.
Create a successful online registration strategy with Eventbrite
Your event website provides the first impression of not only your event, but your overall events business for customers. And we all know how important first impressions are.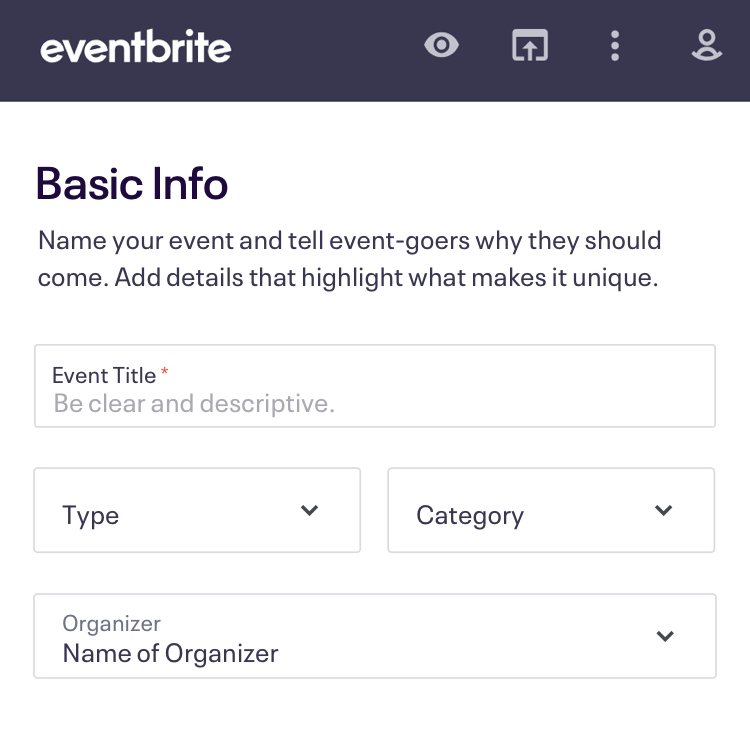 1
Provide an exceptional experience for attendees at every touchpoint
2
Register your event in just minutes
Eventbrite's comprehensive event planning toolkit provides everything you need to post your event, create event tickets, and enable RSVP ticketing on your event pages or through the Eventbrite mobile app.


Whether you're hosting live music events and high-demand live sporting events or corporate meetings and industry trade shows, we've got you covered with the best event registration software on the market.
3
Spark engagement and conversions with an elegantly designed event website
Customisable online event management website templates built by our industry experts make it easier than ever for your guests to find the information they need and to pay registration online or on the event app using ourtwo-click, secure checkout.
The advantage of tiered ticketing in event registration
A smart and diversified ticket pricing strategy is essential to selling more tickets and earning a profit.
Giving your attendees varied ticketing options also helps streamline the online event registration process. Eventbrite offers several different strategies to break down your ticket pricing options. Here are a few examples:
Early Bird Tickets



Early bird tickets allow you more control over the sales process. To help maximise the number of attendees and revenue, you can easily adjust how long the early bird lasts and how much of a discount you want to offer.

VIP Tickets



Premium ticket tiers can help you attract new attendees and make more money from your current audience. This is the second most important ticket type for driving revenue after General Admission, so if you have the resources to provide a premium experience, go for it.
Discount Offers

Offering customised ticket discounts enables you to win repeat business, offer bulk discounts on registration ticket purchases from specific groups, and encourage recipients to act by a certain date.
What to consider when determining the right online event registration solution
When considering the free registration software to create an event attendees won't forget, look at these key features and capabilities:
Social media integrations to drive more ticket sales



You can increase ticket sales when you use multi-faceted event management software that can integrate with Facebook or Instagram. This seamless integration adds valuable convenience by enabling guests to pay registration online without leaving the social media site or mobile app.

Timely payouts when you need them



We understand that different vendors need to get paid at different times. Effortlessly keep track of it all by choosing event management software that can efficiently schedule payouts and give you easy access to your revenue when you need it.
Glean valuable new insights into your attendees



Our advanced event registration software allows you to easily gather key information about your attendees by asking them the right questions during the checkout process or via an online RSVP form.



You will also gain deeper insights into your attendees with tailor-made questions that can inform smarter email marketing and social media marketing campaigns that yield more traffic, clicks, and conversions.
How to register an event in Eventbrite
Date published/ June 16, 2020
Creating unforgettable events is easier than ever with Eventbrite's suite of free event management solutions.
To get started, log in to your Eventbrite account and select "Create event."
Enter your event details [event title, host or organizer, event type or category, location, and dates].
Add your event image and event description. You can now set up your online events page, then add your ticket types.
Before publishing, be sure to set up your ticket order form and add your payout details.
You can view more detailed step-by-step instructions on
our support page
in the Eventbrite Help Center.
What is an online event registration system?
Date published/ June 16, 2020

An online event registration system provides the technology to facilitate an efficient, user-friendly ticket purchasing and checkout process for your event attendees.
The foundation of a successful online event registration system is a robust digital transformation that streamlines the end-to-end online journey for attendees by eliminating all manual processes and paper forms.
A smart online event registration system provides event organizers with distinct advantages. These can include customer relationship management (CRM) capabilities, the flexibility to customize features based on the size and type of event, and greater efficiencies that come with digital workflows and seamless automation.
Join the world's largest event community
"Eventbrite cut down check-in time by about 66%. There are no lines at the door and nobody is frustrated."

— Gabriella Graceffa-Bunker, EA to the President of Whole Foods NA

"With Eventbrite, it's just easy. Whether I'm sitting at my desk or on site at a festival, I can access everything on Eventbrite."

— Donnie Estopinal, CEO & Founder

"The ticket sales process is a lot easier and the check-in process has become seamless."

— Pete Torres, Director of the Tribeca Film Festival

"Working with Eventbrite has helped us sell more tickets. Anyone who's as data obsessed as I am will absolutely love Eventbrite's backend."

— Vicki McMurchie, Senior Operations Manager

"Eventbrite has helped us so much...they really seem to care about our company and the success of it."

— Kate Levenstien, founder and CEO of Cannonball Productions
An event registration platform that works within your budget
Begin offering online event registration for free with the world's leading event registration app, or sell tickets for a small fee.
Essentials
The basics you need to start selling tickets in minutes.
---
Fee per paid ticket: 1.5% + NZ$0.49
Fee per free ticket: Free
Ticket types: 1
Professional
The full set of tools you need to create, manage, and grow your events.
---
Fee per paid ticket: 4% + NZ$0.49
Fee per free ticket: Free
Ticket types: Unlimited
Premium
Tailored event registration partnerships for large or complex events.
---
Fee per paid ticket: Custom Pricing
Fee per free ticket: Free
Ticket types: Unlimited
Frequently Asked Questions
Innovative event technology to enhance your online registration
1
Sell more tickets in the leading online event marketplace
Eventbrite's industry-leading online ticketing platform provides all the tools and technology event organizers need to sell out their live experiences.


With our innovative event technology, you can start registering your guests for free. Guide them through a user-friendly journey on your event website, from the online event registration form to check-in.



2
Easily create custom tickets with a suite of self-service solutions
Templated ticket design capabilities and integrated digital marketing tools will help convert browsers to buyers. Your event tickets, featuring automated QR codes at registration, also make the contactless check-in process quick and easy for attendees when they arrive at your event.



3
Register your event in minutes and kickstart your event payment workflow
Eventbrite's comprehensive event planning toolkit provides everything you need to post your event, create event tickets, and enable RSVP ticketing on your event pages or through the Eventbrite mobile app.



Discover how Eventbrite's online event registration platform elevates your attendees' experience