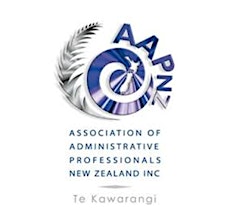 Association of Administration Professionals NZ
AAPNZ Manawatu Group welcomes all administrators (including receptionists, PA's, EA's, administration assistants, accounts and payroll staff) to come along and be involved in a wide range of opportunities with us.
 Administrators work hard to provide a high standard of service and support for our organisations.  We recognise that we need support too. 
Our members come together monthly and hear from guest speakers who cover a wide variety of topics.  During these meetings there is always the opportunity to share with each other our experience, knowledge and skills, while socialising with like-minded professionals (and make new friends in the process).
 We would like to help you develop your career and network with other people working in administration roles in your region. 
 Meetings are held on the second Wednesday of each month at a venue in Palmerston North.  
 Meetings commence at 5:30pm with drinks, nibbles and networking and a speaker at 6:00pm.  Dinner at a restaurant in a relaxed atmosphere is available to all meeting attendees afterwards. 
 The first meeting for GUESTS is FREE!
 Contact the Manawatu Group to join or for further information. Email manawatu@aapnz.org.nz
The Verdict Cafe (upstairs function centre) • Palmerston North, Manawatu-Wanganui
$28 - $140