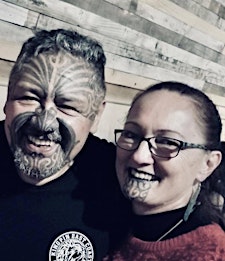 Dr Diana & Mark Kopua
Mark and Dr Diana Kopua are the founders and directors of Te Kurahuna Ltd – offering expertise in mātauranga Māori and best practice pathways for indigenous peoples for over twenty years.
Mark Kopua - Tohunga
Mark was raised in Mangatuna, by his old people and carries much of the history of his tribes, Te Aitanga a Hauiti,Ngāti Ira and Ngāti Porou. A high profile Māori artist, for many years, in the field of whakairo and tā moko. Mark currently works at Te Kūwatawata, where he utilises his vast mātauranga Māori as a pathway of healing for whānau Māori.
Dr. Diana Kopua - Psychiatrist
Dr. Di was raised in Takapuwāhia with her whānau under the umbrella of Ngāti Toa. She is of Ngāti Porou descent from Tikitiki/Rangitukia and Te Araroa. She began her journey in health as a psychiatric nurse, studied medicine at Otago University eventually specializing in psychiatry and is the creator of Mahi a Atua.  Dr Di graduated as a fellow in 2014 and relocated to the Tairawhiti area as Ngāti Porou's first consultant psychiatrist.