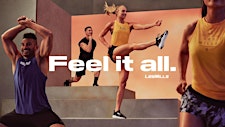 Les Mills New Zealand
LES MILLS™ group fitness programs change the lives of millions of people in 14,000 clubs across 80 countries. Our mission is to create a fitter planet, one workout at a time. Every day we challenge participants to put aside whatever else is happening and lose themselves for an hour in one of the world's most popular group fitness classes.
From its base in Auckland, New Zealand, we renew our 10 programs every three months with new choreography, licensed music and instructor education - creating an invigorating exercise experience known around the world.
With Les Mills you're not just exercising, you're joining in on something bigger than yourself. Gain the energy of THE GROUP EFFECT™ as one of our 90,000 certified instructors guides you through a hugely motivating workout set to amazing chart-topping music.
You'll unleash yourself, fall in love with fitness, and change your life. You'll sweat, you'll shout - you may even curse us - but you'll leave feeling exhilarated. And tomorrow you'll come back and do it all again.
Find out more about LES MILLS™ group fitness, or find your nearest class.
Sorry, there are no upcoming events