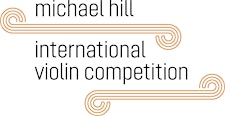 Michael Hill International Violin Competition
ABOUT

Established two decades ago by entrepreneur and passionate violinist, New Zealander Sir Michael Hill, the Michael Hill International Violin Competition is seated at the top table of global, classical music competitions.
It is New Zealand's most prestigious classical music competition and arguably one of its key iconic events of the calendar.
Closely nurtured by a Board of ardent arts lovers, the biennial "Michael Hill" carefully selects international and leading local luminaries to guide brilliant young talent through competition, intensive master classes and career development.  Young violinists emerge enriched, their music advanced and skills broadened.

PHILOSOPHY

A combination of exceptional technical prowess and outstanding artistry are the twin cornerstones of a professional violin career in the twenty-first century.  The era we live in demands even more from young artists:   communications expertise and the charisma and perseverance to cut through the saturated market.
The Michael Hill International Violin Competition takes the young musician and delivers a more rounded performer and prepared individual onto an appreciative, relentless international stage. 
The competition continues to uphold the principles of integrity and authenticity in all its operations.  It also upholds the principle of genuine cultivation of talent in all its facets.

VIOLINISTS

Competitors, age 18-28 come from all over the globe:  in 2017 drawn from 140 applications from 30 countries.
The Michael Hill International Violin competition provides travel and accommodation for the quarter- finalists, encouraging robust competition and the chance of a lifetime – to perform beautiful music against the backdrop of one of the most beautiful countries on earth.
Competitors stay with caring, kiwi families in Queenstown (South Island) and then Auckland (North Island).  They experience manaakitanga – the unique New Zealand version of hospitality that places a visitor's wellbeing first.
Career development including masterclasses, workshops and community outreach further extend the competition experience.
Sorry, there are no upcoming events