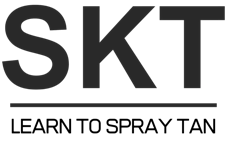 SKT | Learn To Spray Tan
SKT is the national leader in Spray Tan Training workshops, Our trainers have been responsible for training thousands of spray tanners throughout New Zealand, Australia, and the United States.

When choosing a training provider, its experience that counts and the SKT training team are second to none. Spray Tanning is a competitive market the difference between a good spray tanner and a great one can be traced back to who trained them. And we guarantee our results!