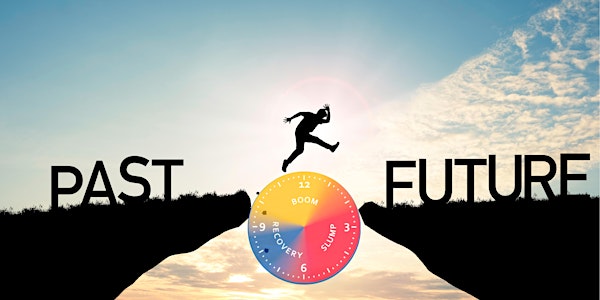 Accelerate Your Property Investment Wealth Creation - In Person Event
Location
Harcourts 23 Office, 1st Level, 95 Manukau Road, Epsom
95 Manukau Road
Auckland, Auckland 1023
New Zealand
Sales Have Ended
Registrations are closed
SOLD OUT! SORRY you missed your opportune timing to attend this event. Follow us to be informed of future events to ensure you do benefit from opportune timing next time!
Accelerate Your Property Investment Wealth Creation With The Property Cycle On Your Side - FREE event
About this event
When investing hundreds of thousands, or millions, of dollars in the cyclical Auckland property market it pays to know as much as you can about the property cycle.
Don't let you be one of the crowd in the year 2027 who are saying "I wish I had known what I needed to know about the property cycle 5 years ago!"
Be one of the few (like attendees of our seminar series back in 2018) who say "I'm SO GLAD I learned all I could about the property cycle 5 years ago so I knew what to do, why and when!"
Our USP is simple. We are NZ's ONLY property cycle specialists supporting property investors to accelerate and multiply property wealth creation since 2001 with exclusive property cycle knowledge, insights and education.
ATTEND THIS EVENT TO LEARN HOW YOU CAN CAPITALISE ON TIMING AND THE PROPERTY CYCLE...
STAY AHEAD OF THE PROPERTY INVESTMENT 'HERD' AND BE BETTER INFORMED - Discover how you can benefit from our property cycle research findings which are based on unique analysis of decades of data and trends. Methodologies that have revealed exclusive property market insights that enhance your property investment results. Learn how to become truly countercyclical/contrarian. Our research is second to none in New Zealand and has successfully passed the tests of 'time and tides' for over 2 decades (since 2001) benefiting thousands of property investors.
REAL DEAL EXAMPLES - With $1Million+ in profit
EXCLUSIVE PROPERTY CYCLE INSIGHTS - To help you grow richer with the property cycle.
MAKE SMARTER PROPERTY INVESTMENT DECISIONS - Discover what the most successful investors know and do to achieve superior results.
BECOME A CONTRARIAN INVESTOR SAFELY - Learn how you can have the confidence to be countercyclical to achieve what most others only dream of achieving from property investment.
FEEL MORE CONFIDENT - Learn how you can make better informed decisions with the property cycle in mind.
BECOME MOTIVATED - To overachieve with your next property purchase.
FEEL SAFER - Don't suffer FOMO or FOOP ever again!
USE THE PROPERTY CYCLE WISELY - Discover how you can join the 'frontrunners' of the property investors 'herd'.
PLUS MUCH MORE
At TellMeTheTime we can not improve your time in the market because that is up to you but we can improve your timing the market. We offer a rare in-depth knowledge and understanding of the property cycle. Timing in property is not just about picking the bottom of the market, it is about knowing what to do, when and why regardless of which phase the property cycle is at.
If you are an Auckland property investor, whether you are in the market to buy a property right now or not, you will not want to miss this event.
You have heard and read about the current state of the property market from all of the rest but you won't find our views in the media as we employ a media blackout to protect the value of our research findings for our clients.
Discover how you too can get our exclusive inside view of the property market and advice of genuine "windows of opportunity" as they emerge, on an ongoing basis, from one of the most trusted independent property experts in New Zealand.
This event is also an introductory event to the TellMeTheTime Property Cycle Mentoring service.
Be prepared to join the thousands of property investors who have reaped the rewards of our property cycle insights and ongoing research findings.
Property Cycle author and authority Kieran Trass, aka "Mr Property Cycle", will present this very timely seminar.
TESTIMONIALS
"Gave me an understanding of property cycles resulting in extraordinary results. I now have complete financial freedom and a net worth of over $100,000,000 to date! "- Name withheld upon request
"Kieran helped me as a property investor to improve cash flow across my portfolio for 11 years. This has paid off significantly and has also given me more security." - Alaine T
"Understanding the fundamentals of the property market was a daunting prospect to me, and something that I never thought I would understand. I was also skeptical about so-called property market experts. This was until I heard Kieran talk at a workshop on the market itself and explain those fundamentals in a way that makes them easy to understand and relate to. And he does it with such obvious passion that you can only but want to learn more. Kieran helped me to understand the fundamentals of such things as the herd mentality and the property cycle, and this allowed me to take my investing business to the next level. On the back of what I learned, I was happy to invest in 3 more residential properties, that are all great investments because I got the fundamentals right" - Kristin Sutherland
"I have used Kieran's services and products over the past several years and always found his knowledge of the real estate market to be very accurate. His strategies and property cycle experience helped me get through the 2008-09 global financial crisis. I would recommend homebuyers of all levels to consider Kieran's services as they have definitely helped me. " - Whittaker Hamilton
NEED MORE INFORMATION ABOUT THE PRESENTER?
Kieran Trass is New Zealand's leading Property Cycle Author and has decades of experience in finance and real estate as a financier, investor, mentor, trader and developer. He has worked for local and International financial institutions, lectured at leading Universities and at International real estate events, co-founded the Auckland Property Investors Association plus built a group of real estate related companies.
If you need more reasons to understand why Kieran has had such success and is such an authority on the Property Cycle and property market, click the links below to view his books that give you a window into his knowledge and experience.
Grow Rich With The Property Cycle (Penguin 2004)
An Insider's Guide To Real Estate Hot Spots (Penguin 2008)
The Housing Bubble (Penguin 2009)
Secrets Of The Canadian Real Estate Cycle (2011)
100% SATISFACTION GUARANTEED!
We are so confident that you will receive far more value than your time to attend that your host is personally guaranteeing you will. If you are not 100% satisfied with what you learn at the conclusion of this event, just ask Kieran for a free one on one consultation.
"You, like me, already know how you feel when you are investing hundreds of thousands or millions of dollars in property and that the most well-informed decisions are much safer" - Kieran Trass.