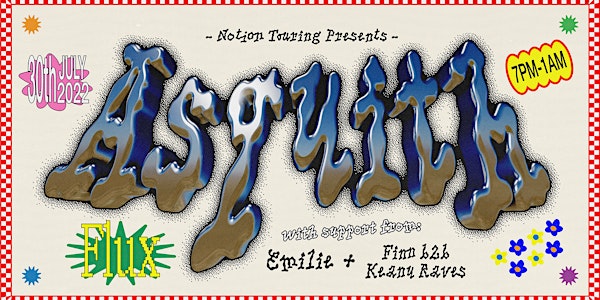 Location
FLUX
270 St Asaph Street
St Asaph Street
Christchurch, NZ
New Zealand
Asquith joins us at Flux Saturday 30th July!
About this event
A phenomenon a lot of us have been waiting for, label head for one of the most important labels in dance music right now (Lobster Theremin), prolific Dj and producer, Asquith join us at Flux July 30th.
Adding to the selections we have Emilie, Finn and Keanu Raves.
Back in 2013, Londoner Jimmy Asquith quietly minted the now-ubiquitous record label Lobster Theremin with an impressive debut release from a promising new producer: fellow Londoner Jay Donaldson – now known world over as Palms Trax.
Since then, the label boss has found himself thrust to the epicentre of the global dance music scene, operating a vast network of sub- and sister-labels, and looking after a staggering roster of artists that includes Palms Trax, Ross From Friends, DJ Seinfeld, Imre Kiss, Ozel AB and dozens of others.
Over the years the Lobster Theremin empire has expanded rapidly to incorporate a respected distribution service, and a physical record shop based in Hackney. With a physical home and vibrant team of full-time employees, the operation stands as a welcome reminder of what can still be achieved in an industry so often assumed to be cash-strapped and devoid of prospects.
Behind the decks, Asquith maintains a busy international touring schedule whilst holding down a regular slot on Rinse FM and hosting the sell-out Find Me In The Dark parties at Corsica Studios.
In 2016 he released his first solo record: a subdued techno EP on Where To Now?, released under the mysterious Tom Hang alias. Now, two years on, he is set to resurrect the alias for his debut LP, To Be Held In Non Position – an accomplished, emotionally charged debut that draws on noise, drone and ambient house to captivating effect.
In summer 2018 he will release his debut Asquith release; a scintillating and stomping blend of UK via German power house, Northern baseline and NYC grooves. It's a white label self-release that sees the label boss step out from behind the Lobster veil and present a weighty and creative self expression through sound.