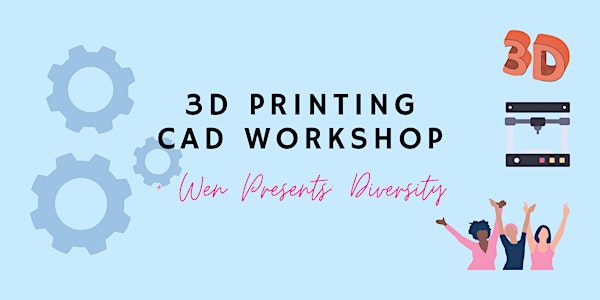 CAD Workshop + WEN Presents (Buddy Event 3)
Location
The Faculty of Engineering, University of Auckland
20 Symonds St
Auckland, Auckland 1010
New Zealand
Join us for the Buddy Programme's 3rd Event: a 3D Printing CAD Workshop, followed by WEN Presents: Diversity.
About this event
Details:
Date: Wednesday 10th August
Time: 4:30PM-7:30PM (workshop and WEN presents), or 4:30PM-6:00PM (workshop only)
Location: Engineering Building, 3 Grafton Road, registrations will take place on Level 2
3D Printing CAD Workshop (4:30PM to 6:00PM- registrations from 4:00PM)
We invite the Buddy Programme's High School buddies, CAD Competition entrants and teachers to join us for the 3D Printing CAD Workshop! In this workshop, students will design a puzzle piece with a design to showcase their diversity using Fusion360. We will then 3D print these for the students to keep. There will, of course, be food!
WEN Presents: Diversity (6:00PM-7:30PM)
There is then the option to stay for WEN Presents: Diversity. This event showcases the diversity in engineering through a panel of fantastic, diverse speakers from industry and beyond! They'll speak on their experiences as engineers and engineering thus far, from a diversity perspective.
Please note that this event will be compliant with the University's COVID-19 guidelines; the most current information can be found at: https://www.auckland.ac.nz/en/news/notices/2022/covid-19.html