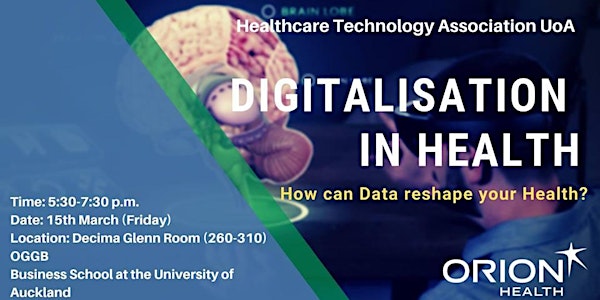 Digitalisation in Health -- How can data reshape your health?
Location
The Business School at the University of Auckland
Decima Glenn Room (260-310)
OGGB Building
Auckland, 1010
New Zealand
Sales Have Ended
Ticket sales have ended
Thank you very much for registering for the event. The dress code for the event is Smart Causal. We will see you there.
Description
The use of modern technologies and digital services is not only changing the way we communicate, they also offer us innovative ways for monitoring our health and well-being.
By innovating in digital health and care we can support our ambition towards reducing inefficiencies in healthcare delivery, improving access, reducing costs, increasing quality of care, making our health services more person-centred, personalising medicine for each patient's unique needs. It gives people the opportunity to be provided with "smart care" in a homely environment so that they could live in an independent style.
This event will draw young professionals across Healthcare, Technology, Pharmaceutical & Medical industry, and beyond to confront the most challenging dilemmas in healthcare -- and uncover new solutions. Digitalisation in Health will warmly welcome senior leaders from three major healthcare companies -- Orion Health, Mercy Radiology and Vensa Health -- that explore best practices, deliver practical tools, and disseminate useful information to industry professionals around the topic of Digital tech in healthcare.
Food and drinks are provided.
Dress code: Business Causal.
About the Guest Speaker:
Michael Hosking is a Clinical Product Specialist at Orion Health, working collaboratively with clinical stakeholders and our software developers to ensure we are building solutions that are useful and meaningful for healthcare professionals. Michael has been involved with a research project funded by Precision Driven Health, to improve clinical information searching. Currently, clinicians spend a significant amount of time and effort searching for clinically meaningful information across electronic patient records. Michael was part of a team that designed a proof-of-concept intuitive information retrieval system that enables clinicians to search for specific clinical concepts from within electronic clinical documents.
Michael is passionate about the professional development of the health informatics workforce and is a Certified Health Informatician Australasia (CHIA), a credential that acknowledges competency to perform digital health skills across a range of settings. He has also led research into what is needed for the health informatics workforce to support the digital health strategy.
Dr Lloyd McCann, the CEO Mercy Radiology and Clinics & Head of Digital Health for Healthcare Holdings Limited. The presentation topic is "Transform or bust: Why and how healthcare organisations must digitally transform". In this brief presentation, Lloyd will discuss the drivers for digital transformation in health and explore some ingredients for successful transformation using local real-world examples.
Tom Varghese is the Manager for the Auckland & Northland for Vensa Health. Vensa Health's products have impacted over 3 million kiwis across the New Zealand general practice market over the past 12 years. Currently, Vensa is building a global company with a technology platform designed to disrupt healthcare through digital transformation from a hospital-based system, to a primary care economy. Tom will be speaking about "Vision Vensa: Making healthcare accessible, affordable and convenient".
Tom trained as an Orthodontist and has since transitioned from private practice into health technology. He is the founder of the HealthTech Symposium Series and the NZ Ambassador for the Patientory's Blockchain-Healthcare initiative. He is on a personal mission to engage conversation and breakdown preconceived notions surrounding technology and its applications in healthcare.
HTANZ reserves the rights to use any photograph/video taken at any event run/sponsored by HTANZ, without the written permission of those included within the photograph/video.
We reserve the right to check your registration and cancel/change it, if it does not meet the requirements.