FilCoro sings a selection of our favourite songs from movies.
About this event
Feeling nostalgic and longing for times before Covid19?
Come and join us for a relaxing time as we reminisce with songs from movies we have enjoyed over the years.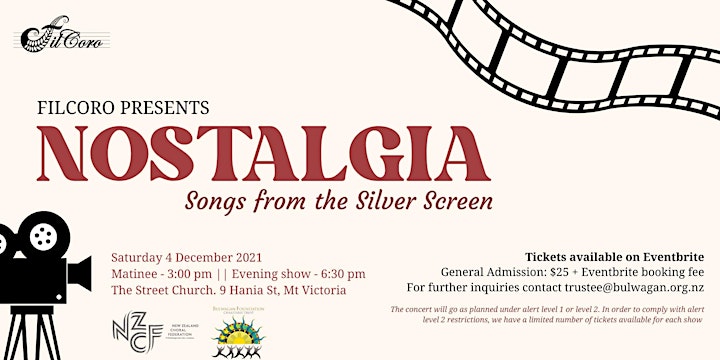 IMPORTANT:
On December 3, New Zealand will move to the traffic light COVID-19 response system. No region in New Zealand will move directly to Green. So while in Orange or Red, proof of vaccination will be required for entry to all performances of FilCoro's Nostalgia: Songs from the Silver Screen concert on December 4.
See more information about restrictions for events in the traffic light system on the covid19.govt.nz website.
https://covid19.govt.nz/assets/COVID-19-Protection-Framework/COVID-19-Protection-Framework-22-October-2021.pdf
You can find information on how to get a COVID-19 vaccination status certificate on the covid19.govt.nz website. Please present your My Vaccine Pass (electronic or printed out) or vaccination card upon entry to the venue. Children under 12 years and those with medical conditions that prevent them from receiving the vaccine will not be required to show proof of vaccination.
https://covid19.govt.nz/covid-19-vaccines/covid-19-vaccination-certificates/my-vaccine-pass/
You will be required to wear a mask while in the venue. You will be seated apart from people not in your bubble.
If you have already purchased a ticket, and would like a refund, you can do so through your Eventbrite account.
https://www.eventbrite.co.nz/support/articles/en_US/How_To/can-i-get-a-refund?lg=en_MY
Please contact trustee@bulwagan.org.nz for any questions.