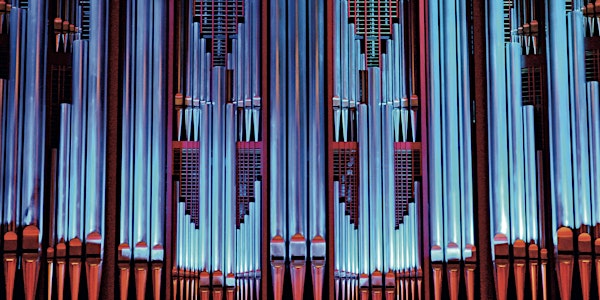 Organ Concert: Martin Setchell (Town Hall Organist) - "Encore!"
Location
Christchurch Town Hall
86 Kilmore Street
Christchurch, Canterbury 8013
New Zealand
Hear the newly restored Rieger pipe organ in Christchurch Town Hall in concert, played by resident organist MARTIN SETCHELL
About this event
"ENCORE!"
Acknowledging our country's essential workers during the lockdown and beyond
Presented by the Friends of the Christchurch Town Hall Organ Trust, in conjunction with the Christchurch Organists' Association
Supported by Vbase & Rainbow Print
--
THE CONCERT
On Sunday 18 October at 3pm, Christchurch Town Hall organist Martin Setchell will give a FREE public organ concert on the Rieger pipe organ.
This replaces the original 'Music for a Holiday' concert, scheduled for 1 June (Queen's Birthday Monday) which had to be cancelled owing to COVID 19. It will provide an opportunity for us to acknowledge our country's essential workers during the lockdown.
It is the first of what will become an annual Christchurch Town Hall event: the organ curator's concert, promoted by the Friends of the Christchurch Town Hall Organ Trust with the generous support of Vbase, the venue management company.
Martin will introduce and play a popular programme in his own inimitable style.
Music will include his own arrangement of Bach's Sinfonia from Cantata 29 and Khachaturian's Sabre Dance, the Berceuse and Finale from the Firebird Suite (Stravinsky), March héroique (Brewer), Scherzo in E major (Gigout), and the Carillon de Westminster (Louis Vierne, born 150 years ago in 1870).
Martin's latest CD Resounding Aftershocks (recorded in January 2019), will be on sale after the concert.
Admission will be FREE, but tickets must be booked in advance online!
Only a limited number of seats are available on a first come, first served basis.
Admission on the day will only be possible if there are any seats left!
--
THE ORGAN
The pipe organ in the Christchurch Town Hall was installed in May 1997 by Rieger of Austria, 25 years after the hall opened in 1972. About 96% of the cost came from public donations and bequests, so this is truly the people's organ. In early 2011, 12 new ranks of pipes were being installed by Rieger when the devastating earthquake struck. The organ was silenced for eight years while the building was repaired, but fortunately, it had suffered only minor damage and was fully restored by Rieger between November 2018 and January 2019. Now with a total of 4307 pipes, it was reopened by Mayor Lianne Dalziel on 6 March, 2019.
The organ's website: www.nzorgan.com
--
THE ORGANIST
Christchurch city organist Martin Setchell has served as Town Hall organ curator since the Rieger pipe organ was opened in May 1997, performing an annual concert until 2010. Post-earthquakes, he worked tirelessly to preserve this iconic instrument, overseeing its restoration, and gave the first concerts when the organ was officially re-opened on 6 March, 2019.
He has also given numerous re-opening concerts on new city church organs including the Transitional Cathedral, St Paul's Papanui, Knox Presbyterian, Oxford Terrace Baptist, and All Souls Merivale.
Recently called 'New Zealand's most widely-travelled concert organist' he is an international performer who believes in promoting entertaining organ music to a wide audience. In the last 20 years he has performed in Europe, the USA, Canada, Australia, Singapore, Hong Kong, China,Japan, and throughout New Zealand.
Born and educated in England where he was awarded his Fellowship of the Royal College of Organists, he studied at various times with Pierre Cochereau, Marie-Claire Alain, Piet Kee, and Peter Hurford. He immigrated to New Zealand in 1974 on his appointment to the University of Canterbury. After 40 years' service, he resigned as Associate Professor of Music in 2014 in order to pursue his international performing career full-time, but continues to serve as University graduation organist. In 2008 he received a Civic Award for services to music in the community and the Town Hall organ. He has recorded 6 CDs on the Town Hall organ: Let the pealing organ blow, Bonbons for organ 1 & 2, Pink and White (an anthology of New Zealand organ music), Great Australasian Organs VII, and Resounding Aftershocks (2019 - the first recording on the restored and enhanced organ).
Martin's website: www.organist.co.nz