Come see the gender diverse triumph that is RŪRANGI THE MOVIE - along with cast & creators as it launches its PRIDE theatrical tour of NZ.
About this event
Created by and starring gender diverse Kiwi talent, Rūrangi is a triumph of trans representation both on and behind our screens - and there's just no better way to experience this award-winning triumph than with a full house of queers and our allies.
Even better? Proceeds from the night go towards RainbowYOUTH.
Hosted by ASB and RainbowYOUTH, this glittering evening will be packed with media buzz and community spirit, including a complimentary drink from Spencer Block Wines.
Taking a nuke to clichéd, cis-plained queer stories, this award-winning, gender-diverse production stars smouldering trans star-in-the-making Elz Carrad, is described by flicks.co.nz as "colossal" and won BEST FEATURE at Frameline Film Festival 2020.
So come experience the groundbreaking LGBTQi Kiwi film that all of Aotearoa can take PRIDE in.
Dresscode is whatever you feel fabulous in.
COVID UPDATE January 29... see below for our Covid Alert Level plans
--- At Covid Alert Level 1 - Rūrangi's launch event continues as planned.
--- At Covid Alert Levels 2,3 & 4 - Rūrangi's launch event is postponed, new date TBC. We will contact you via the email address supplied at the time of your booking, and put updates on our Rūrangi Facebook Page. As this event is a fundraiser for RainbowYouth, we encourage - with deepest thanks - ticket holders who cannot attend the new date to gift your tickets to a lucky someone who can (you'll make their day!). However if this is simply not possible, please email pride@rurangi.com to arrange a refund.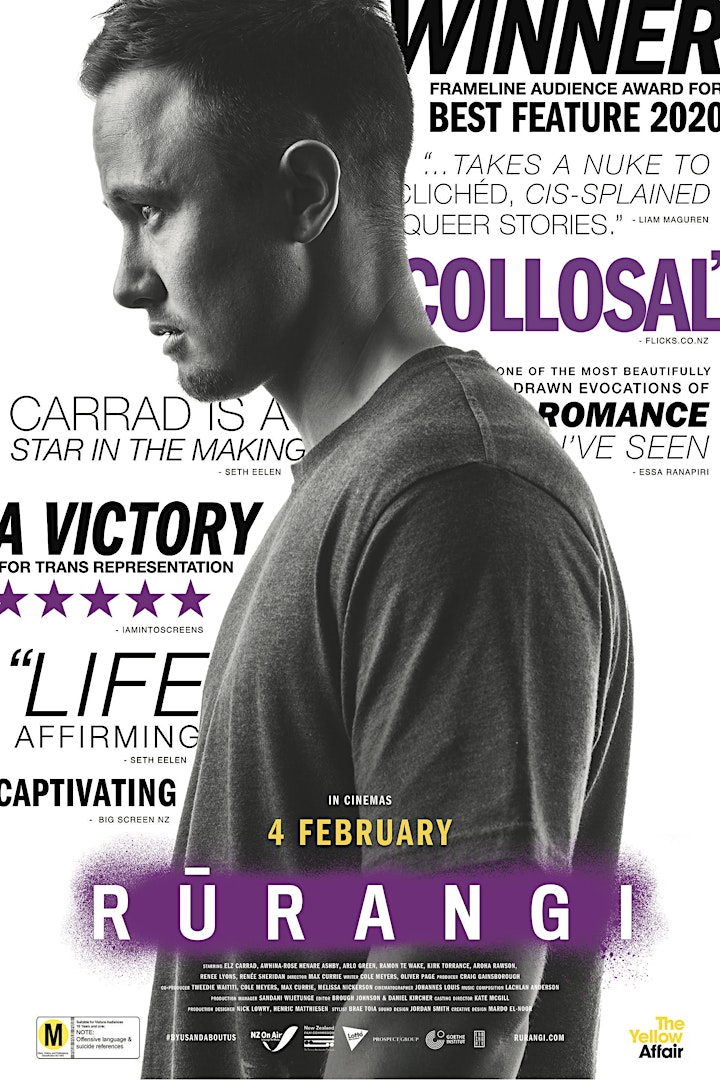 "You'll laugh, you'll cry, you'll cry again."
- Amelia Berry, Flicks.co.nz
"CAPTIVATING"
- Big Screen NZ
"One of the most beautifully drawn evocations of romance I've seen"
- Essa Ranapiri, The Pantograph Punch
"A momentous victory for trans representation"
★★★★★ - Into Screens
"…takes a nuke to cliched, cis-splained queer stories."
- Liam Maguren, Flicks.co.nz
Organiser of Rūrangi The Movie: The Rainbow Carpet Tour