Location
Studio 38
38 Airedale Street
Auckland, Auckland 1010
New Zealand
The Public Speaking Program that's changing women's lives.
About this event
Learn how to speak up and be heard
As women, mothers, wives and partners, business owners, and professionals we've naturally got a lot of valuable knowledge to share.
What doesn't always come so naturally is our ability to speak up to be heard.
There are so many things that we feel hold us back from shining – like lack of confidence, knowledge, support and time to practice – but not anymore!
If you're tired of being hesitant to speak up at meetings or to have your say at community events – or whatever your story may be – then this is the ideal membership program to be a part of.
She Says So
She Says So is a speaking program designed for women who want to find their voice, be able to speak up no matter what the context, be understood, heard and to inspire action.
As speaking and the ability to articulate yourself well towards others is an art which takes time, guidance and practice to learn, the She Says So speaking program is held every fortnight.
This ensures regular practice and progression whether you're a working professional or busy mother on the school run.
It's also cost effective with no additional obligations or volunteer positions required.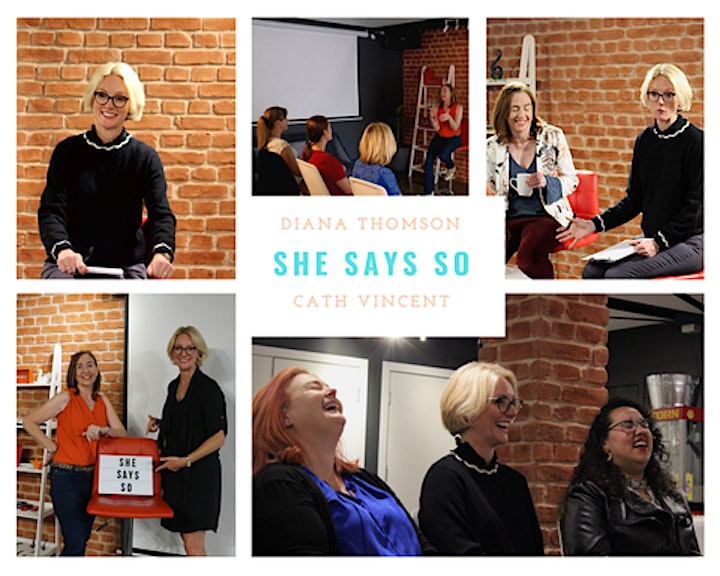 Your hosts
Co-hosted by not one, but two, professional speakers!
Learn from people who've made a career out of being powerful and inspirational speakers, AND yet still remember how nervous they were when they got started.
Cath Vincent
Cath is an international, award-winning conference speaker and business mentor.
Her signature keynote is Wake Up Your WOW – how to live at maximum energy, confidence, and motivation every day.
She coaches others in public speaking and is the host of The Cath Vincent Show, a motivational chat show that airs on Sky TV.
Diana Thomson
Diana is an international speaker, author and speaking coach.
Specialising in working with women to get their voices heard, she's the founder of SpeechMarks Coaching for women.
She is the author of Anyone Can Speak Confidently - the recipe for public speaking success.