Event Information
Location
Lane Neave
48 Shortland Street
#Level 8
Auckland, Auckland 1010
New Zealand
Simple share trading in growth businesses
About this event
Dear MIEA members and invited friends,
We invite you to join our workshop on share trading in growth businesses. This will cover Mini-IPO's, employee share schemes and also introduce you to new investment opportunities. the presentation will be from Catalist-NZ SME stock exchange, Lane Neave-Leading Law company of over 150 years, and Grant Thornton-One of the world's leading organisations of independent assurance, tax and advisory firms
Run-sheet
MC: Micaela Lewenz ( MIEA active member)
Topics: Why liquidity benefits both entrepreneurs and investors?
17:30-17:57 Networking
17:57-18:00 Greeting from Lane Neave partner, Ashley Taggart & MIEA Micaela
18:00-18:25 Catalist director: Colin Magee with Q&A
◦Introduction to Catalist and benefits of liquidity (10 min)
◦Example of tradeable employee share scheme (10 min)
◦Example of a listed business – focus on a property investment which has liquidity (5 min)
18:25-18:50 Lane Neave parnter : Claire Evans ( Legal preparation for Mini-IPO & ESOP, TBC)
18:50-19:15 Grant Thornton partner: Murray Brewer (Employee equity plan issues pre IPO-tax, commercial and practical considerations)
19:15-19:20 MIEA new partner members introduction( IRelax, ASX,TBC)
19:20-20:00 Networking
https://www.catalist.co.nz/
http://laneneave.co.nz
https://www.grantthornton.co.nz/en/
Below is the Bio of the speakers
"Catalist's Public Market Means Smaller Businesses Can Now Access Public Investment, With Significantly Lessened Costs And Administrative Burdens – And Without Compromising Investor Protections" Colin Magree, Who Was Previously Head Of Conduct At The Financial Markets Authority (FMA), Added.internationally experienced
Claire Evans
Partner
LLB (Hons), BA (Hons) - University of Canterbury, Admitted in NZ & NSW
Business Acquisitions and Sales, Business Advice, Franchising, Corporate Governance, Financial Markets and Investment Funds
+64 3 353 8012
+64 21 288 2298
claire.evans@laneneave.co.nz
Claire is a recognised corporate lawyer, having worked in law firms in Christchurch, Sydney and London.
As lead of Lane Neave's national corporate team, she has built a practice was recognised as a Leading Individual for Investments Funds by Legal 500 in 2022.
She is the lead partner for the financial markets and financial legal services team, where she is particularly known for her expertise in limited partnerships and investment funds.
Providing specialist advice on all areas businesses, Claire works with clients on issues relating to buying and selling businesses, commercial contracts, corporate entities, franchises and regulatory compliance within the financial services industry.
Claire also provides advice on all aspects of corporate law ranging from corporate governance, directors duties, shareholder agreements, issue of shares, minority buy out rights and general company law issues. She works with clients when they are establishing and restructuring corporate structures (including limited partnerships and units trusts), ensuring compliance of listed and unlisted investment products, capital raising, joint ventures and drafting the relevant disclosure documentation in Australia and New Zealand.
Claire is well-known for her extensive knowledge of all aspects of franchising. She works with start-up franchisors, established franchisors and prospective franchisees to ensure the right agreements are in place and help guide them through the franchising process.
She has a broad range of merger and acquisition experience, including working on a number of high profile transactions which were valued in the billions.
Claire and her team are approachable and responsive to clients. The team strives to making working with Lane Neave easy with timely and practical commercial advice. Claire enjoys helping clients with their business, whether it be day-to-day legal advisory or one-off projects.
In addition to her legal work, Claire is an experienced independent director with roles with Christchurch City Holdings and Canterbury Linen Services.
Murray Brewer
Partner – Taxation Services, International Liaison Director for the GTI network
FCA CAANZ
Murray has over 28 years' experience in international tax consulting for private clients and company executives.
Murray has specialist experience in New Zealand's international tax rules and trust rules. He is highly qualified in international tax consulting to private clients and family offices, and dealing with international finance structures, tax effective structuring and transfer pricing, profit repatriation, tax dispute resolution and senior executive tax consulting.
Prior to joining Grant Thornton in 2004, Murray was with PricewaterhouseCoopers and prior to that with Inland Revenue.
Contact details:
T: +64 9 308 2570
D: +64 27 448 8880
E: murray.brewer@nz.gt.com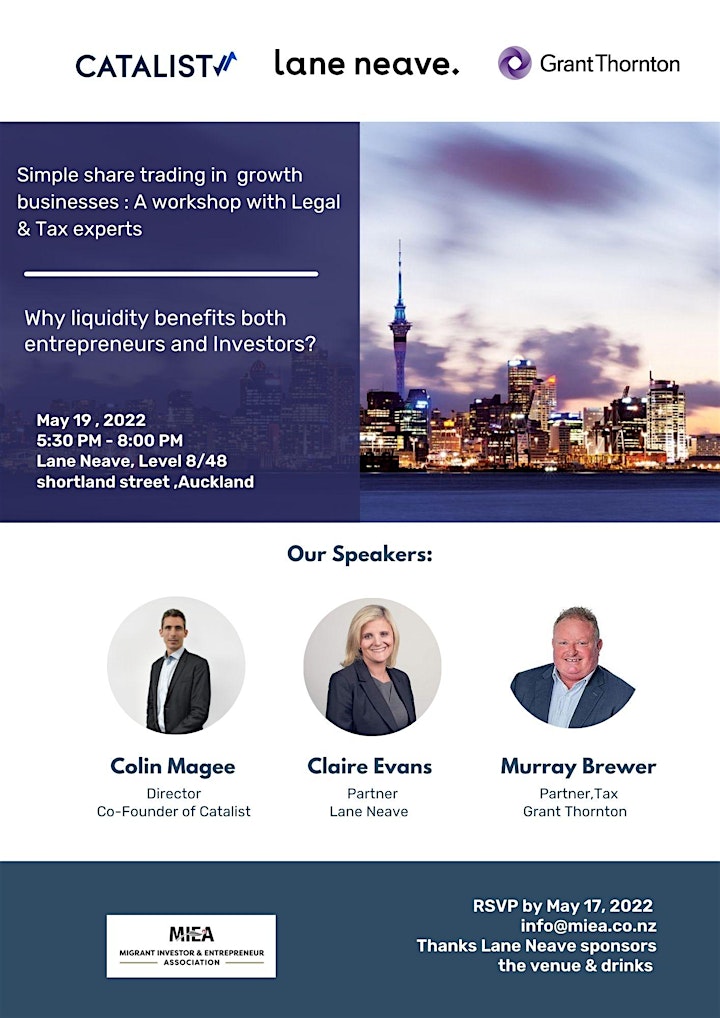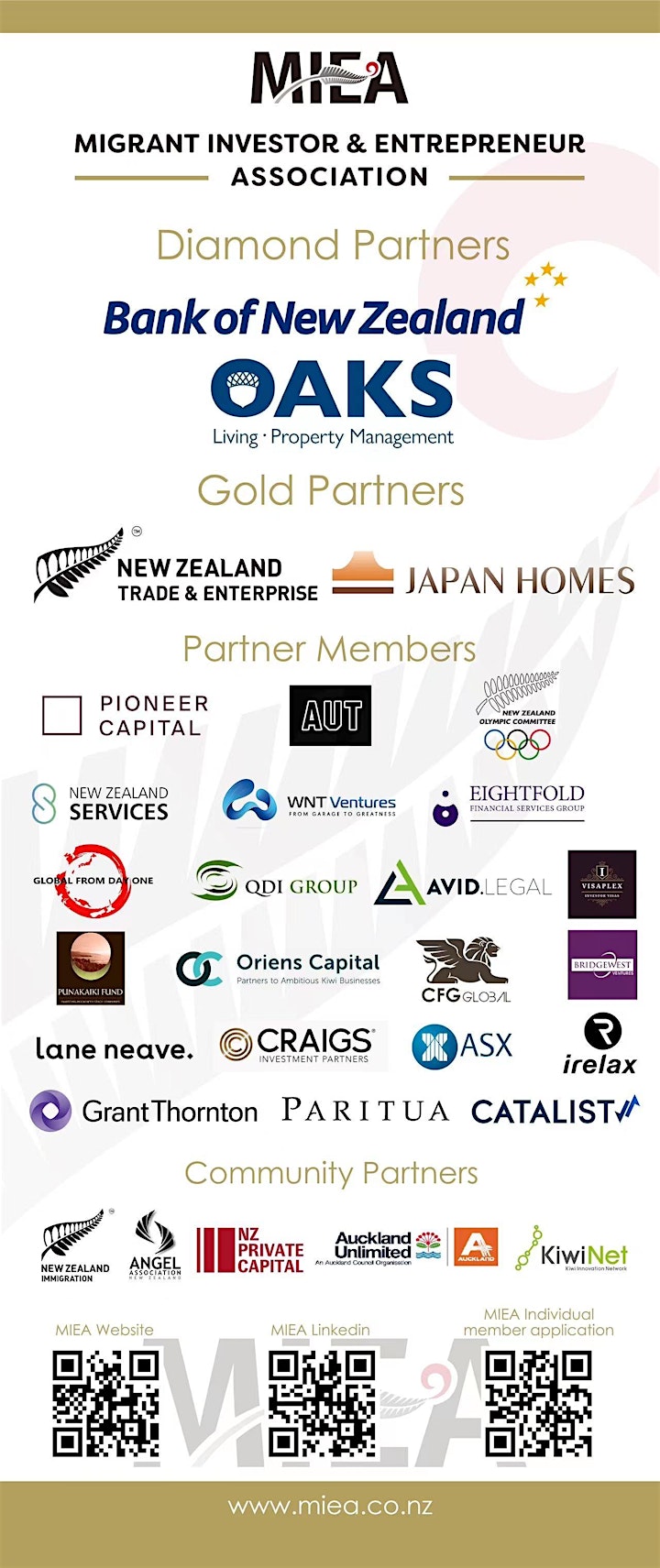 Date and time
Location
Lane Neave
48 Shortland Street
#Level 8
Auckland, Auckland 1010
New Zealand