The South Island Spearfishing and Free Diving Club welcomes all spearos to the 2022 South Island Spearfishing Champs.
About this event
The 2022 South Island champs will be held in the Marlborough Sounds, all competitors must attend the briefing 8am at Queen Charlotte Yacht Club. Boats will be required to get out to the competition zone.
This is a swim competition, all competitors will start and finish in the same zone, the competition time will be announced at the briefing but will either be a 4 or 6 hour swim comp.
This years competition location will be either Port Gore or Port Underwood depending on weather conditions on the day.
Official Rules:
1. Each member of a team may carry one spear gun.
2. Guns must be loaded by muscular force. Cartridge type, compressed gas guns and power heads are not permitted.
3. Mask, Snorkel, Fins, Knife, Weight belt, Torch, and protective clothing may be used.
4. Flashers, Flasher rigs, Fish attraction devices may not be used.
5. Each team must tow a float or plat with a dive flag
6. Attached to the Float or Plat will be two lines. One being no more than 4 meters. The other being a minimum of 6 and a maximum of 40 meters. Either line may be bungee or part bungee.
7. Buoyancy compensators may be worn but must not aid in landing a fish.
8. Spare gear may be carried. (Caution: No guns or shafts may be carried hanging vertically in the water)
Weigh in Rules:
1. MPI minimum size limits apply
2. All fish presented must be gutted.
3. Only 1 fish per species may be weighed in
4. Only fish on this list may be shot during the competition.
5. Scoring system:
100 points per eligible fish + 1 point per kg.
Max scoring weight of kingfish is 8 kg.
The scale will be read to the nearest 10 g
2022 Eligible Fish Species:
Blue cod
Kingfish
Kahawai
Blue moki
Red mullet (goat fish)
Butterfly perch
Snapper
Butterfish
Squid
Flounder
Stargazer (monk fish)
Gurnard
Terakihi
Hapuku/gamefish
Trevally
John Dory
Warehou
Trumpeter
COVID1-19 POLICY:
Since this event will exceed the legal limit of 50 attendees per defined space and is considered a Sporting Event, My Vaccine Pass will be required for all attendees over 12 years of age.
REFUND AND CANCELLATION POLICY:
There are no refunds on tickets purchased.
If the event is postponed tickets will be valid for the future date, if you are unable to attend the future date a refund will be offered.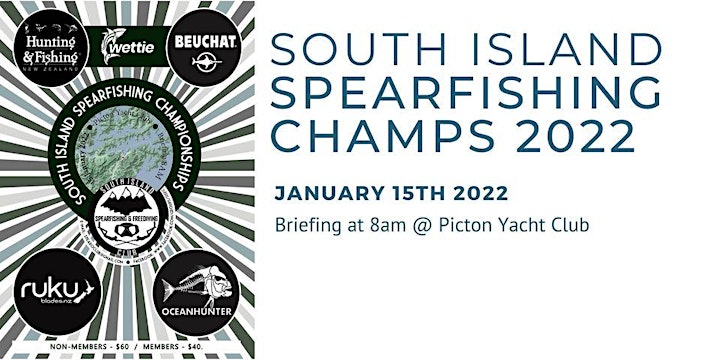 Organiser of South Island Spearfishing Champs 2022