Discover what it means to be Human. Register for the Theology of the Body Human Love in the Divine Plan at www.marriageandfamily.org.nz .
About this event
Who am I? What is my purpose in life? What is love all about? Explore the meaning of our bodies as they relate to the purpose of our existence. Discover what it means to be a gift in our world and encounter the Ultimate Gift.
To register or for more info, click on the link below:
https://www.marriageandfamily.org.nz/human-love-in-the-divine-plan
Please note that paying through EventBrite will incur an extra charge for fees.
Early Bird: $40.00 (before 17 July)- without fees
Registration: $50.00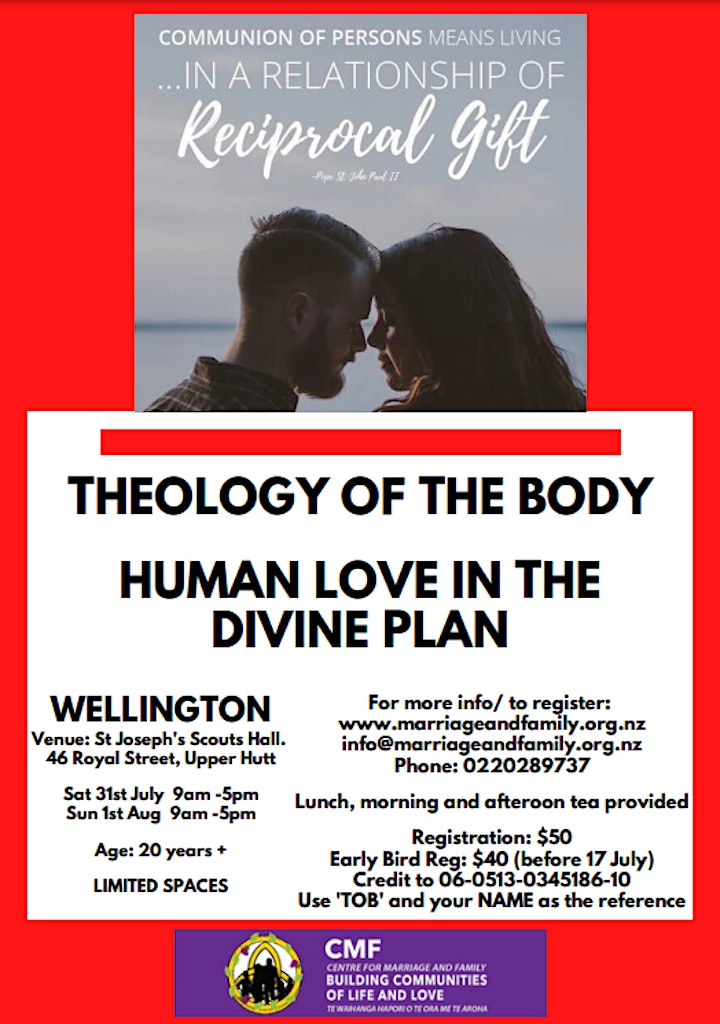 Organiser of Theology of the Body Human Love in the Divine Plan
The Centre for Marriage and Family is a non- profit Christian missionary organisation that seeks to strengthen marriage and provide support for families to become communities of life and love. It also aims to provide resources to empower the family in the fulfillment of its Four General Tasks:
(a) Forming a Community of Persons
(b) Serving Life
(c) Participating in the Development of Society
(d) Sharing in the Life and Mission of the Church.