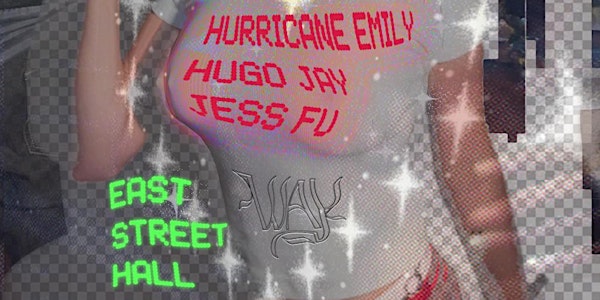 WAY Presents HURRICANE EMILY, HUGO JAY & JESS FU
Location
EAST ST. HALL
5 East Street
Auckland, Auckland 1010
New Zealand
About this event
The Doof-less Dark Ages of Covid are receding. The slate has been wiped clean. Your liver is healed, your eye bags have faded and the serotonin levels seem more or less stable(ish).
And WAY Presents:
- Hurricane Emily
- Hugo Jay
- Jess Fu
All for u x.
We've been figuring out the Traffic lights (green for 'go-on-then', yellow for yikes, and red for return to bed). We've been fretting about the similarities between Long Covid symptoms and a hangover (is this covid or Monday, I really can't tell).
The difference between PCR and PCP, rat tests, and the modest field mouse. Is that a faint positive? Which group chats do I need to notify, who didn't see the dreaded double line on my close friends?
Do we even remember how things were?
How a thumping kick rattles your ribcage? How your cheeks ache from smiling?
How for once in your life it's fine if you're sweaty; everyone else is too.
The glow of seeing old friends, of making new ones.
Some things are best left forgotten, but it's high time we remembered how to dance.
WAY is offering YOU:
A second chance at a first impression. An opportunity to dance, to drink, to make merry.
To remember there's a big ol' world out there.
Far bigger than the 3 lounges/backyards you've been rotating, bigger even than your 10-strong Covid crew that got you through Traffic-Setting-Level-Red-Light-Means-No-Doof.
Leave those dark and doof-less times behind, let us lead you into the light. Be warned, it's bright out here: Speedy shades recommended.
There's more to life than a mates lounge and a UE Boom.
It's time we remembered that.
****************************************************************************************
HURRICANE EMILY
Since Hurricane Emily returned to the windy shores of Pōkene, she's been carving up the scene with high energy sets sprinkled with breakbeat, acid bleeps, and assertive anthems.
HUGO JAY
Producer/DJ Hugo Jay has been turning heads with room-shaking sets since the dawn of days. Hugo Jay has bought his mastery of deep house back to little ol' Aotearoa. No one really knows what we did to deserve him, but his recent sets have been compulsory viewing.
JESS FU
Think 95bfm. Think Under the Radar. Think Bandcamp's Daily music blog. Think Earmilk. LA's Dublab.
What do all these iconic institutions have in common? Jess Fu.
Since returning from LA, her sets specialise in bringing you the new sounds from across the Asia Pacific Region. Remember to thank her for introducing you to your new favourite artists when you see her next.
****************************************************************************************
ESH & WAY have a zero-tolerance for discrimination of any kind.
<3 Respect our community, the space, the staff and our artists.
<3 Please report anyone who is not contributing to a safe space.
Aroha Nui xx