Location
Wairarapa A&P Showgrounds
12 Chester Road
Clareville, Wellington 5791
New Zealand
Truck Show * Car Show * Vintage Machinery * Motorbikes * Vintage Cars * Steam * Earth Moving
About this event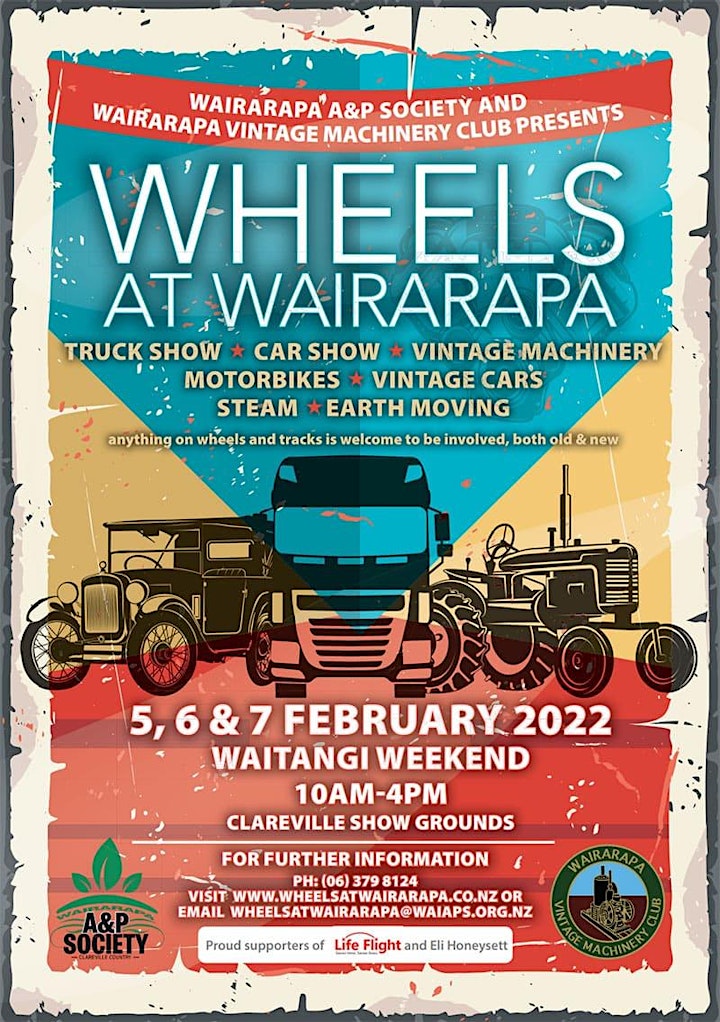 PLEASE NOTE: Due to the changeover to RED, we regretfully could not run this event as intended over Waitangi Weekend 2022. It has been postponed until Waitangi Weekend 2023
Please follow our Instagram & Facebook pages for updates
This 3-day-Festival celebrates all things on wheels, with a different theme on offer for each of the days!
A fun, family-friendly event with Entertainment, Food and drinks available.
Saturday 4th Day 1 ~ Vintage Cars/Motorbikes
Sunday 5th Day 2 ~ Trucks
Monday 7th Day 3 ~ Agriculture/Tractors
You'll see rare, private collections of machinery in action in farming demonstrations. Get up close to machines restored by hand to original working condition.
See cars, trucks and motorbikes from yesteryear to today!
Truck Show | Car Show | Motorbikes | Steam |Earthmoving | Vintage Machinery | Vintage Cars | Clydesdales
Anything on wheels and tracks is welcome to exhibit! The more unique the better!!
Free all-day parking
Motorhome/Caravan sites available (enquiries directly with the Clareville Showgrounds)
You will need to hold your Covid Vaccine Passport to attend this event if you are over 12 year old.
Adults $15 per day
Youth (12-17yrs) $5 per day
Under 12yrs Free
3 day Event Passes are available
Would you like to get up close and personal with the wheels? Become a volunteer!
Head to our website www.wheelsatwairarapa.co.nz
Our website also has all your need to know about registering your wheels & booking a trade site.