Location
61-63 Hugo Johnston Drive
61-63 Hugo Johnston Drive
Auckland, Auckland 1061
New Zealand
Refund policy
Contact the organiser to request a refund.
Eventbrite's fee is nonrefundable.
Join us for a morning of insight, inspiration, empowered connections & speakers to align your life and business.
About this event
We are so excited to see you in person at this fun and empowering event designed to help you to align your life and/or business.
Come and connect with other business owners and individuals who want to live a high vibe life , hear from awesome speakers and leave feeling motivated, inspired and align with who you are and how to courageously create what you want.
10am Arrive & Networking (coffee/tea on arrival)
10:20 am Welcome - Natalie Cutler-Welsh
10:30 - 11:15 Speakers (ten minute talks)
11:20-12pm Panel
12-12:30 Mingle & Networking
Here are some of our awesome Speakers who will be doing a 10 min talk followed by a panel Q&A session.
Jacqlin Richards - The power of Focus and Choices to create a life you Love.
Gemma aka Queenie Gee - Conscious Living: Creating space to Awaken
Melissa Mills - Embodied Wealth Scaling up your income & impact as a heart-centred leader
Douwe Hoogstra - How to Be Bold in Business. *All attendees will receive a complimentary copy of 'The Mojo Amplifier', a must-have quick-guide for any business owner and solopreneur.
Natalie Cutler-Welsh - The importance of Upping your Brave to Align your Life & Business
* Free Parking available at venue.
* Morning tea on arrival
* Prize draw
Book your tickets & we'll see you there!
For those who want extra business insight and mentoring...
Book your spot for the Align & Be Bold Masterclass
This is a small group in person Masterclass with Go to Girl Natalie Cutler-Welsh and Douwe Hoogstra designed to help you to clarify what aligning your life & business looks like to you specifically and how you can integrate insights, ideas, networking connections to Align and Be Bold in your life & business.
Align and Be Bold principles
o Life and Business are intertwined and ideally ALIGNED.
o You need to be clear on what you want in life, and your business needs to provide that for you: Income, lifestyle, outlet for skills/expression.
o Personal Vision and Why are paramount.
o Be Bold is a break-through mindset philosophy and toolkit.
o Be Bold is about (self) leadership.
o Be Bold is guaranteed to work, it's fast and it is sustainable.
o Love Your Business (and Life) – It's Your CHOICE.
Be Bold helps you to:
ü Eliminate Stress
ü Handle difficult situations with ease
ü Hit fears out of the ballpark (like public speaking or being on video)
ü Create and sustain Extraordinary Relationships with partners, family and work teams
ü Understand your partners, kids, family, friends and staff better
ü Achieve your goals with ease
ü Live a happier life!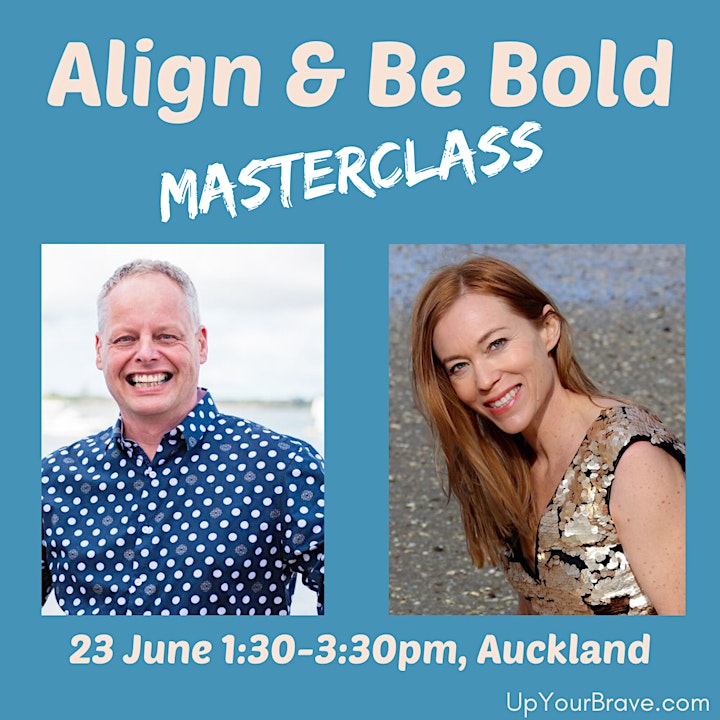 Looking forward to seeing you at Align!
Your host, speaker & SuperConnector
Natalie Cutler-Welsh
Impact & Visibility Coach
Go to Girl Ltd
Up Your Brave & Align your Life!
For more insight & inspiration you're welcome to join my free facebook community: Go to Girl Amplify your Impact, Business & Wellness