Welcome to Healthy Hospo's second event of 2021. All about connecting to yourself, others and the community.
About this event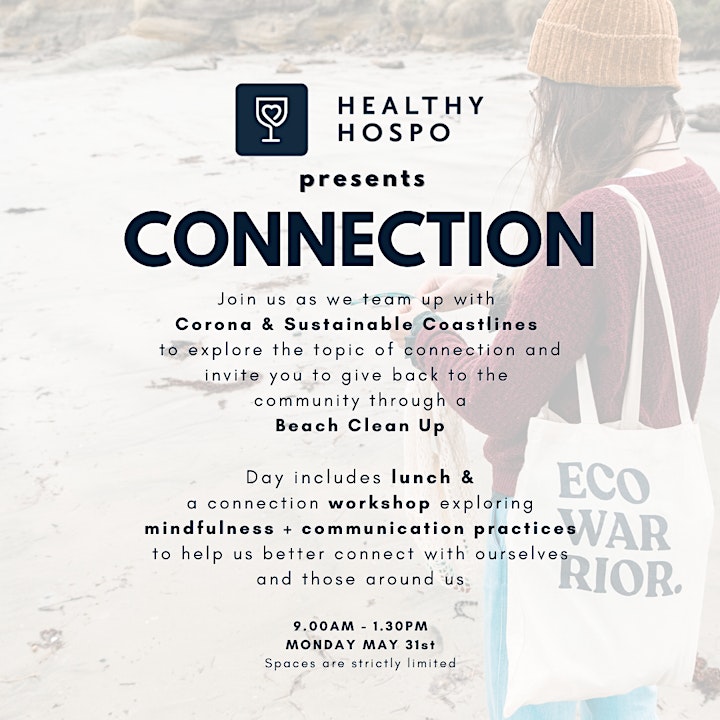 Did you know that studies have shown that the biggest factor that influences how long you live is not nutrition or exercise… but how socially connected you are?
In this fast paced, technological world, it is all too easy to become disconnected and out of balance. In this one hour connection workshop we will dive into the nature of mind and the power it has over our experience. Through the exploration of mindfulness, compassion and communication practices we will come away equipped with tools to support us in navigating the stressors of the hospitality industry, coping with challenging emotions and re-establishing a stronger and more positive connection with ourselves, others and our environment.
TIMING:
For those who need transport:
8.15am Meet at Lion for coffee: 27 Napier St, Freemans Bay
8.30am Buses depart and head to Taumanu Reserve, 30 Seacliffe Rd, Hillsborough
For those making their own way to the beach clean up:
9.00am Sustainable Coastlines Beach Clean Up begins.
12.00pm All return to Lion HQ for lunch, refreshments & a workshop on Connection
1.30pm Workshop ends
THE IMPORTANT STUFF:
This event is limited to strictly 30 attendees – please REGISTER to secure your spot here.
Spaces are VALUABLE. This event costs Healthy Hospo $180 per attendee.
Due to limited spaces, if you are UNABLE to come, please give us 7 days notice OR find yourself a replacement.
This ensures no one will miss out due to last minute NO SHOWS.
The workshop will be facilitated by Kelly Watkin.
Kelly is a teacher, working in the field of positive youth development. She delivers programmes for youth nurturing leadership, resilience and self-efficacy and runs trainings for youth mentors. Trained in teaching yoga, mindfulness and mindful self-compassion, she also runs workshops to share these tools with youth. Currently she is part of a 2 year mindfulness and meditation teacher certification programme to deepen her training in the teaching of awareness and compassion based practices. She is passionate about the power of connection and the integral importance of nurturing it in our lives.